Perfect Strangers
, an historical romance written by Rebecca Sinclair, is set among two feuding clans in the harsh, yet beautiful terrain of Scotland. Colin and Connor Douglas are twin brothers. It has been decided by Queen Elizabeth that Gabrielle will marry Colin. The queen hopes their marriage will somehow reunite England and Scotland. Something happens to disrupt those plans.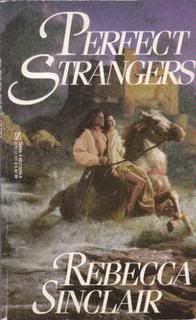 Connor kidnaps Gabrielle and has her brought to his home. She is understandably mad when she discovers that she was abducted and taken to the wrong man.
Gabrielle is not the stereotypical perfectly-built heroine. She is, in her own words, stout and a bit pudgy. The queen has also made some very insensitive, cutting remarks to Gabrielle about how a man could never love her because of her plump figure. This remark has deeply affected Gabrielle and makes her feel that no man will ever want her because of her size.
She finds Connor to be an extremely attractive man, but of course she is sure that he would never feel anything her. She realizes that she is just a pawn for him to use in pursuit of what he wants. And when she realizes that Connor is the infamous "Black Douglas", she is terrified.
Soon after she arrives at Connor's castle it is attacked by Colin's men, and Connor's aunt is kidnapped. Gabrielle sets off to rescue to rescue this woman who has been kind to her. When Connor finally catches up with her, their true feelings for each other become known. Their night of passion doesn't end so well when Connor wakes up to find himself at the end of the sword of one of Colin's men. He and Gabrielle are taken back to Colin's castle.
This book shows that even though all women are not built the same – some are skinny, some are plump, some are fat – every woman has feelings and desires. The outward appearance truly does not matter as much as the way one acts.
The Scottish dialect was a bit hard to follow at times, but I got used to it as I read deeper into the book and became more involved in the story. If the author had made references to the fact the characters were speaking with a Scottish accent and just thrown in a Scottish word in here and there, I think the dialogue would have been a lot easier to read.
Other than some initial problems understanding the Scottish brogue, the story was awesome, easy to read, and flowed smoothly. If you enjoy romantic historical fiction, this is a book you definitely want to read.
I was sent a copy of this book by the publisher to read in exchange for an honest review. If you would like a copy of this book to read and enjoy, I have provided an Amazon link below.