When did this author first feel a desire to write? What other books has she written? How does she balance her time between family, friends, and writing? And what advice does she have for writers who would like to be published?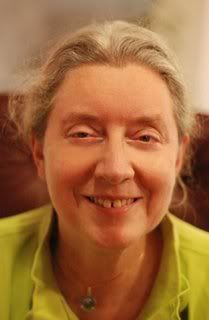 When did you first have a desire to write?
In primary school, I guess. In my family though it was only professions like medicine which were respected, so I wasn't encouraged to regard it as a career option – only a hobby.
Have you written any other books? If so, what are they?
I've written a novel called
Wild goose
, and another called
Queen Anne's Lace
, one before and one after
Skolthan
. The 'Skolthan' setting is used for part of both of them. I've also written poetry and short stories, and 'A postcard from Umbria' about where we live now.
What new doors has your writing opened up for you? Were there any opportunities that you had never considered before?
I hadn't considered commercial writing as an option before but I've now completed a significant variety of assignments.
Do you ever become bored with what you are writing? If you do, how do you get past that point?
There's a real possibility I would get bored with my writing if I planned in detail and was 'filling in from A to B'. That's one of the main reasons I don't write like that.
What is your favorite genre in which to write?
Light adventure, although I haven't done much of that yet.
What are your thoughts on self-publishing?
Self-promotion must be one of the most odious things to do, but it's an intrinsic part of self-publishing. It's best to make it as interesting, inventive and varied as possible.
What kind of books do you like to read?
I don't read as much as I would like. I think it was drilled into me when I was younger that reading was too enjoyable to be productive. I like books which transport me into the atmosphere of a place, like
The Thorn Birds
does for Australia, or
Kingfishers Catch Fire
does for Kashmir.
Damaris is not a name that is heard very often, at least in the Appalachian area of the United States. Can you tell us about your name?
It's a Puritan name, like the 'virtue' names, occurring once in the Bible. I was named after my great great grandmother who was of Huguenot extraction.
How do you manage to balance your time between family, friends, and writing?
The main calls on my time are to do with our large house and garden, and the everyday needs of my husband, Clive, myself, and our dogs. They always take precedence over my writing. Clive is very good in that he allows me my head to do creative writing when our publishing business could quite easily absorb all the rest of my time.
If you could spend one hour with just one person, dead or alive, whom would you choose? Why?
I would like to show my deceased father round our place here in Italy. He was such an enthusiast; I would love to have him appreciate the views and the beautiful proportions of the honse. If I could be really greedy, I would ask that HIS father be allowed to come on the tour as well. I used to love going round places with them. They were always looking for woodworm!
Do you have any advice for writers who are striving to be published?
I would say that if you've written something worthwhile and interesting, and finished it, to approach us. We're always looking for talented new writers to represent.
Thank you, Damaris West, for such a fantastic interview. I look forward to reading more of your books.