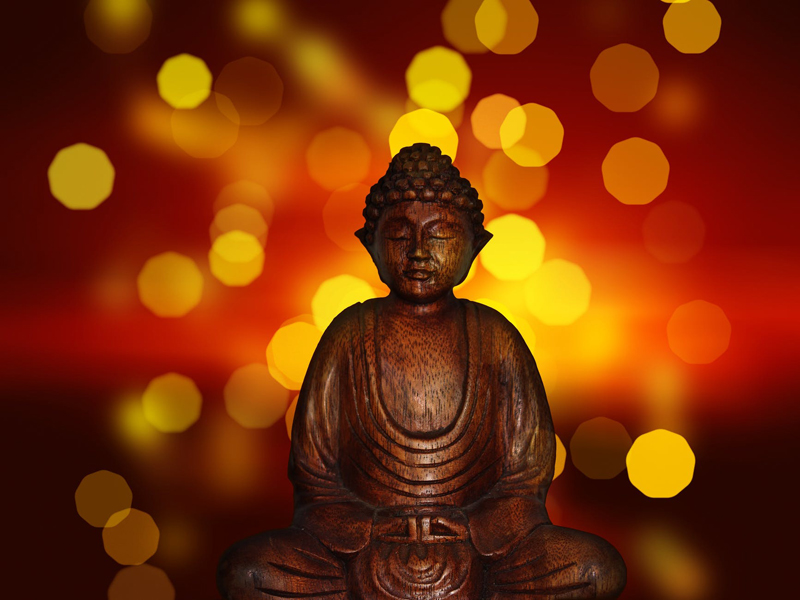 Vesak, the most important holy day of the year to many Buddhists around the world, will be celebrated on May 24th or 25th in 2013, depending on the country and branch of Buddhism. Sometimes referred to as 'Buddha's birthday', this day actually commemorates the Buddha's birth, enlightenment, and death. The date varies from year to year, but in the Chinese lunar calendar falls on the full moon of the fourth lunar month. It is also called 'Visakha Puja' in some traditions, and corresponds to 'Saga Dawa' in the Tibetan Buddhist calendar, which is actually the entire lunar month, although celebrations do culminate on May 25th in 2013.
Although celebrations differ around the world, Vesak is generally a time for coming together to honor the Buddha, and to make offerings. Pilgrimages to sacred locations are common, and in some traditions, practitioners practice all night, or at the very least gather before dawn, in local monasteries, temples, or sacred locations (as in the case of this picture, where Tibetan Buddhists hang new prayer flags at the sacred Mount Kailash for Saga Dawa.) It is a time for renewing vows to follow precepts, and for adhering strictly to the precepts. In many countries, vegetarianism is especially emphasized on this day, and often on the days preceding and following. In some cases governments even ban the slaughtering of animals around this time.
Vesak is also traditionally observed by making a special effort to give to others less fortunate. Charitable gifts may be made to those ill or in need. Lay practitioners often give to their local temples and monasteries, and listen to dharma talks given there, to reinvigorate their own practice. Within Tibetan Buddhism, certain compassion practices are considered especially beneficial during Saga Dawa, and the karmas are considered magnified, with any positive karmic deeds resulting in more benefit than at other times.
All of these traditions are variations on the same idea: That the best way to honor the Buddha's attainment and teachings is by practicing oneself. Because the Buddha urged all practitioners to follow in his footsteps and attain their own realization, these celebrations are meant to reinforce our own dedication to the path, rather than to be forms of worship. Through practicing meditation, ahimsa (nonviolence) and generosity, we renew our own commitment to the dharma. Through this renewed intent, our efforts have a special momentum, or karmic benefit, associated with them.
You Should Also Read:
2013 Buddhist Holidays


Editor's Picks Articles
Top Ten Articles
Previous Features
Site Map



Follow @mommymystic
Tweet



Content copyright © 2021 by Lisa Erickson. All rights reserved.
This content was written by Lisa Erickson. If you wish to use this content in any manner, you need written permission. Contact Lisa Erickson for details.