Satin Stitch is one of the basic embroidery stitches, and yet it is one that people consistently have difficulty in achieving good results, whether they work by hand or machine. Like all embroidery stitches, Satin Stitch needs practice to perfect, but to achieve the best result, you also need to put some time into preparation as it is this which will greatly improve the look of your work.
Satin Stitch can be worked either by hand or by machine, and most of the techniques in this article will work equally well for both methods.
Tension
One of the most common problems that people have with their satin stitch is that the fabric puckers, or the stitches appear loose.
These problems are usually caused because the stitching was done without using a hoop or a frame – a huge "no-no" when it comes to Satin Stitch. By ensuring that you always stitch using a hoop or frame with even, taught tension in the fabric. This will ensure that the fabric lies flat whilst you stitch, and that you don't need to pull the stitches very tight.
Very tight stitching, as in pulling the thread very hard when you finish the stitch, will also cause puckering of the fabric as it pulls the fabric under the stitch.
Your stitches, no matter what the stitch, should always lie firmly, but not too tightly, on the fabric. Working with the fabric always in a hoop or frame will assist you in this.
Size of the area to be stitched
The other reason your stitches can look loose is because you are trying to cover too large an area with them. One of the classic ways they look loose is where the stitches appear to separate and you can see the fabric through them.
The largest area I use satin stitch as a single stitch on is about 2cm. Anything bigger, and I use Long and Short Stitch (a Satin Stitch variation used for larger areas and for shading). Using Long and Short stitch is a better option than just using rows of straight Satin Stitch as it does not give a "line" in the stitching .
An alternative way is to stitch the area, and then couch over the top – either using a contrasting colour thread, or in a similar tone.
To Pad or Not to Pad
Sometimes, your satin stitch will just look wrong – and you may not be able to put your finger on it. It could be that your area of satin stitch needs some dimension. Especially if you are working a bold pattern, parts of it may need to be "raised" to provide a better look.
This is achieved first stitching the design in chain stitch before you satin stitch the area. This will have the effect of raising the work.
I often find that smaller shapes don't look as good padded, and the fact that they are flush against the fabric really makes a nice contrast to the larger padded areas.
Ragged Edges
No matter what, sometimes the edges of your satin stitch are not completely even. This can really distract from the look of the whole area stitch, but is the easiest of all to fix.
All you need to do is to go around the area after you have stitched it using either a backstitch or a stem stitch (whichever you prefer) in either the same or a contrasting colour, or even a colour a couple of tones lighter or darker than the satin stitch.
Doing this will camouflage any raggedness of the edge of your stitching. It is especially effective on a padded satin stitch area.
Example
This picture shows various different treatments of Satin Stitch. The large green leaves are padded with chain stitch, then stitched using satin stitch that is then couched down. The centre Pomegranite is rows of padded satin stitch. The small green leaves are satin stitched but not padded in any way,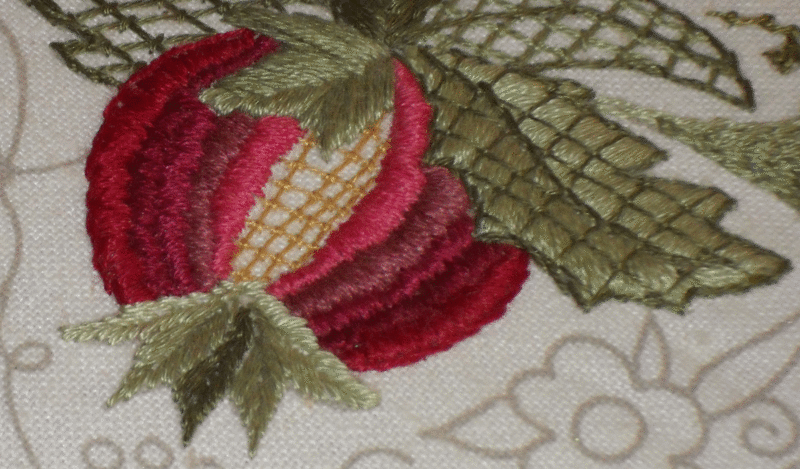 Recommended Reading
Distinctive Satin Stitch Sewing Machine Presser Foot - Fits All Low Shank Snap-On Singer*, Brother, Babylock, Euro-Pro, Janome, Kenmore, White, Juki, New Home, Simplicity, Elna and More!
Mary Thomas's Dictionary of Embroidery Stitches
Doodle Stitching: Embroidery & Beyond: Crewel, Cross Stitch, Sashiko & More
Embroidered & Embellished: 85 Stitches Using Thread, Floss, Ribbon, Beads & More Step-by-Step Visual Guide
Is there anything that you would particularly like to see an article on? If so, please contact me with your suggestions.

© 2013 Megan McConnell




This site needs an editor - click to learn more!


Related Articles
Editor's Picks Articles
Top Ten Articles
Previous Features
Site Map





Content copyright © 2022 by Megan McConnell. All rights reserved.
This content was written by Megan McConnell. If you wish to use this content in any manner, you need written permission. Contact BellaOnline Administration for details.