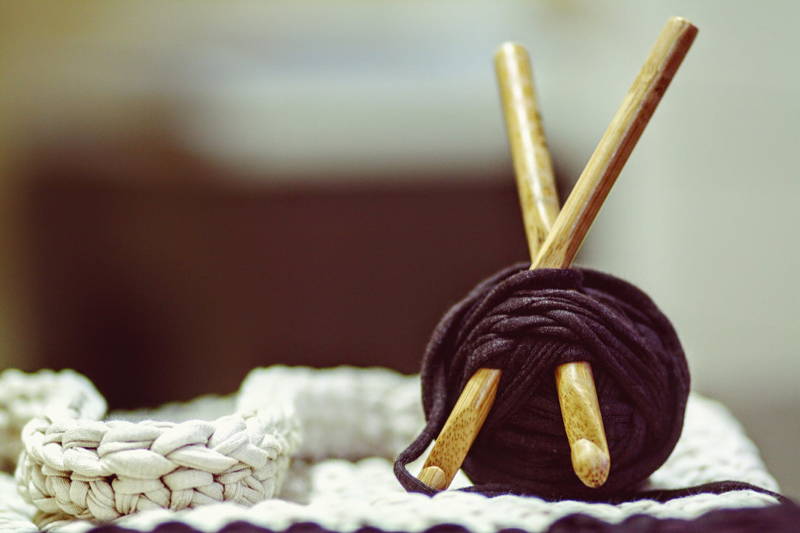 The technique of pulling a new piece of yarn thru a loop already existing on a hook to create just about everything from wearables to usables. That would pretty much sum up what crochet is to most of us but it can and is so much more. There are only 4 basic stitches to learn to get started with this very exciting craft. Almost every project is started with a Basic Chain(CH) and a fabric is formed using one of the following : Single Crochet (SC), Double Crochet(DC), or Treble Crochet(TRC) back and forth in rows or in a circle. These are very easily mastered and practice does make it easier to remember the stitches.

Tension of your hook and yarn all depends on how you hold both of them. Holding your yarn and hook too tight will result in a very stiff and inflexible fabric making it very difficult to complete or make new stitches, it is important to continue to practice until you have developed a certain rhythm with your yarn and hook. Every stitch is made up of loops that are entirely independent of each other but yet interlocked with each other, which means you will not be losing stitches off of your hook. Before starting to learn, make sure your hook and yarn are meant for each other. Hooks come in letter and number sizes and yarn comes in various weights.

Acrylic worsted weight yarn and a size "H" hook are a great beginning point to start with as you may find yourself restarting several times and acrylic yarn can withstand the tearing out and restarting which is a very normal thing for a beginner. It is easier to work from the inside of the skein than the outside, insert your fingers in both ends of the skein of yarn to try and find the middle yarn. You may have to pull out a "glob" of yarn to try and locate it, just carefully wind that around the skein and begin to crochet. At anytime if you find yourself overly frustrated, just set it aside and come back to it later. You will notice a difference in your stitches the more you practice. If you have animals, be careful about leaving your crochet out as they do love to string out your yarn for you and maybe even pull out a few of your hard earned stitches.



Related Articles
Editor's Picks Articles
Top Ten Articles
Previous Features
Site Map





Content copyright © 2022 by Eva Owsian. All rights reserved.
This content was written by Eva Owsian. If you wish to use this content in any manner, you need written permission. Contact Holly Messenger Aamot for details.