Tatting Revisited Anita Hebert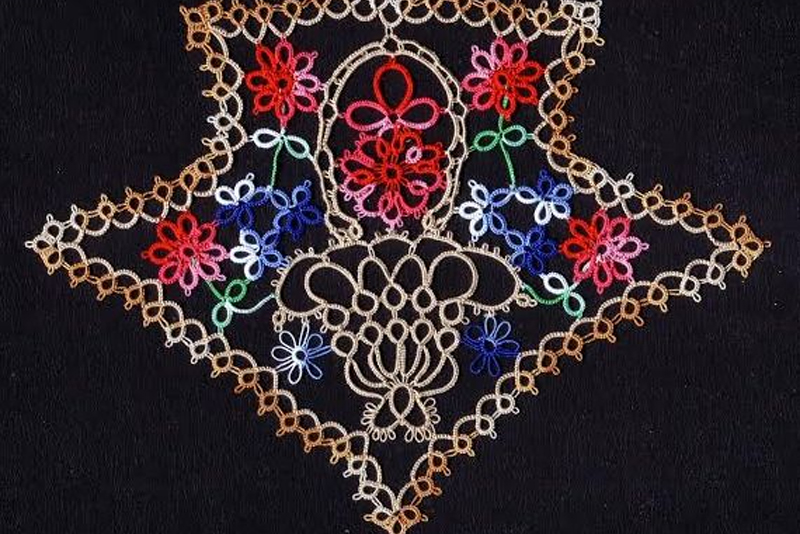 Tatting Revisited, A Shuttle Approach
Right and Left Handed Manual
Anita Hebert c. 2009

8.5 x 5.5", three ring stand up binder 121 pages, both blank and white and color photographs.

The instructions for tatting are presented in text with accompanying photos. Each step detailed in the photos is presented close up and is very clearly photographed. The basic hand movements and the formation of the double stitch is introduced with the creation of the chain done with two different colored threads. An excellent point to start learning as any mistake shows up as the wrong color thread immediately.

The few patterns are presented as an exercise to practice the technique(s.) Many photos are included of completed projects but no patterns are given. They are offered only as encouragement for the new tatter.

The most useful section of the book is the "Helpful Tricks," pages 49 - 114. Here the necessary methods are given for the basic techniques, such as the continuous thread method (CTM,) magic thread trick, shoe lace trick, split ring (the dead spider hand position,) the split chain, self-closing mock ring (SCMR,) and some fancy stitches such as the Josephine Knot (or Ring,) block tatting and cluny tatting.

This is a useful instruction manual for the beginner tatter. However, I was disappointed to note that only the traditional "up" join was taught and not the "down" which enhances the lace or creates the all front/back side look to the work. I also note that there is a little confusion in the abbreviations. Reverse work does mean to turn the lace from front to back side. However, turn work which means to turn the lace like turning the page of a book, and rotate work which means to maintain the same side facing you but move the point of the last ending of the work to a different position, i.e., the bottom of a closed ring from the 6 o'clock position to the 9 o'clock position, i.e., as in preparation for surrounding a ring with chains or for making the onion ring formation.

And, too, switch shuttles does not always refer to the shoe lace trick (SLT.) The shoe lace trick brings both threads together in an overhand knot much like tying one's shoe. The movement allows the shuttle with either a different color thread or more thread on it to be used. Otherwise switch shuttles (SS) most often means to use shuttle 2 for a specific purpose, such as tatting a floating ring. No reverse work is required in that case.

This basic book will get the tatter well on the way to beautiful lace.

I acquired this book for my personal tatting reference library. G. Seitz.

Anita wrote a few words about her tatting history:

"I learned about tatting at a program called ELM in Marietta, GA.  I was so taken by tatting and caught on fairly fast.  I started looking for explanations of more advanced techniques and found many of the explanations too complicated for me to understand so when I found one I could use, I would write it down.  Finally I had lots of pieces of paper scattered around and hard to find what I wanted when I wanted it. 

Then I started compiling my information into some kind of order.  After putting some together, I took it to class at ELM to show my students.  They seemed very excited about it and urged me to put them into some sort of book.  That was the start of my 2 year adventure.

My search for the perfect cover took me to a small company that printed cookbooks.  I not only wanted my book to be easy to read and easy to understand but easy to see, thus the easel was the answer.  No more bending over to read instructions!"


Related Articles
Editor's Picks Articles
Top Ten Articles
Previous Features
Site Map





Content copyright © 2019 by Georgia Seitz. All rights reserved.
This content was written by Georgia Seitz. If you wish to use this content in any manner, you need written permission. Contact Georgia Seitz for details.