Hanging Cluny Split Ring Flower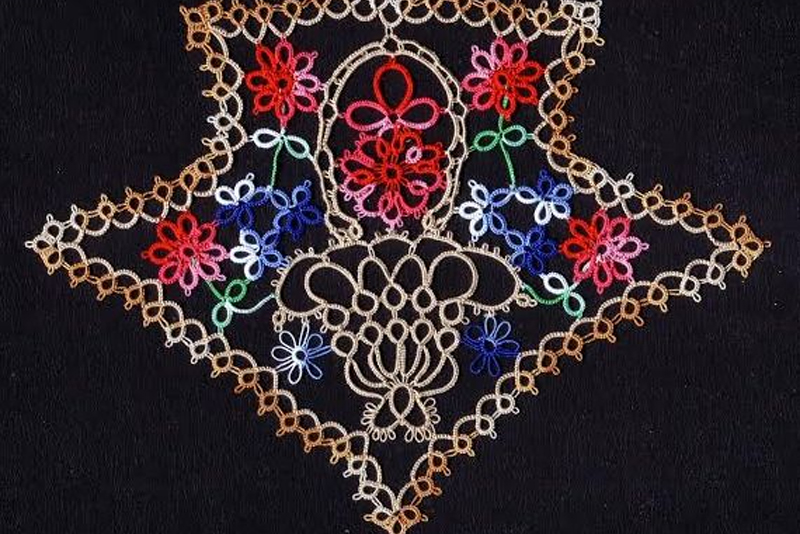 Split Ring Flower with Joined Hanging Cluny Leaves ©2013 Ruth Perry
This pretty little flower is perfect for a bookmark giveaway or to tuck into a get well card. Tatted flowers have an added bonus. They don't make anyone sneeze and they never wilt.
Begin with 1 - 2 yards of a variegated flower color thread on a shuttle (SH1) with a long tail about 24" (61 cm.) Or use 2 shuttles.
R = ring clr = close ring SH1 or SH2 refer to the first or second shuttles
If finger tatting, just pick up the tail at the end and pretend there is a shuttle attached while you do the regular under and over movements.
Round Center Ring:
A. R 2, 6 picots separated by 2 ds, 2. clr.
Create a mock picot by leaving a thread space from both threads to equal the length of a picot.
Climb out into the Flower Petal Rings with a finger tatted split ring using SH1 and the long tail. Or use both shuttles for split rings.
B. Split ring SH1 R 2 - 3 - 3 / (SH2) 2 clr.
C. Split ring SH1 R 2 + (join to picot on center ring) 2 / (SH2) 3 - 3 clr.
Repeat ring C for rings D, E, F, and G.
H. Split ring SH1 R 2 + (join to picot on center ring) 2 + (join to picot of petal ring) (SH2) 3 clr.
Finish off ends.
Hanging Cluny (See tutorial https://www.bellaonline.com/subjects/1216.asp):
Wind about 1.5 (1.5 m)yards of green thread onto shuttle and again leave a long tail about 36" (1 m). (No SH2)
Make a hanging cluny leaf leaving about 18" (.5 m) tail. Wrap the threads as usual but when you get to the end make one more wrap. Go over the thread, under the floss threader, then do a down join to the picot of split ring G. Continue around the far thread, over the floss threader, and then back under the near thread.
Put the end through the eye of the floss threader and pull it down through the cluny. Pull the loom thread down through the cluny as you normally would and tighten up the threads.
Tat this lock stitch: second half stitch wrapped (not flipped), then a second half stitch flipped. This lock stitch makes a knot which will not slip.
Nota Bene: There is no reverse work in this pattern.
Points to Ponder:
1. Why do the flower petal rings have more ds on the outer side than on the inner side?
2. How does a variegated color thread differ from an ombre color thread?
3. Would it be possible to tat the two cluny leaves as regular cluny leaves instead of hanging?
You Should Also Read:
Tatted Butterfly with Cluny leaves
Cluny or Petal Tatting


Related Articles
Editor's Picks Articles
Top Ten Articles
Previous Features
Site Map





Content copyright © 2023 by Georgia Seitz. All rights reserved.
This content was written by Georgia Seitz. If you wish to use this content in any manner, you need written permission. Contact Georgia Seitz for details.