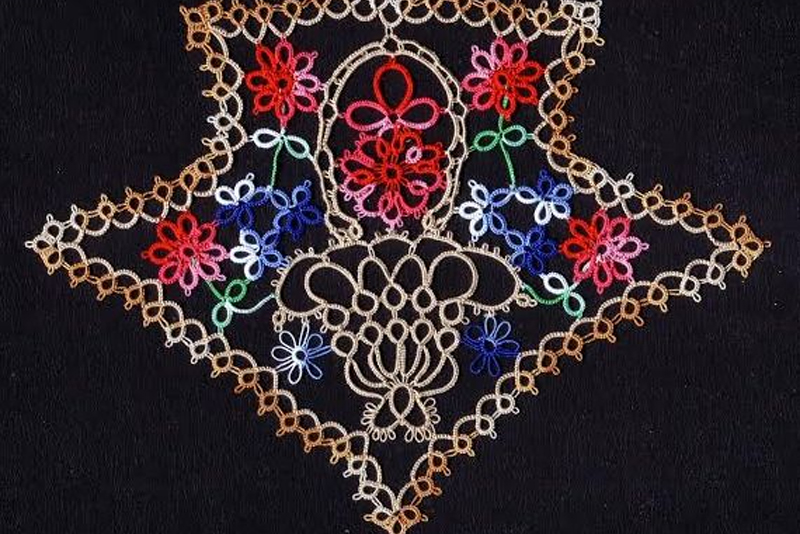 The tatted mignonette stitch is not a stitch at all. It is called that for convenience only. It is actually a lace ground, or background. The tatted ground work is comprised of all rings, no chains. The distance between rings must be carefully measured. The rings of each following row will join to the bare thread between two rings in a previous row.




Increases may be made by joining two rings in one space. Deceases may be created by stopping short. Smaller increases or decreases may be worked into the ground by simply shortening or lengthening the distance of the bare thread space between rings.



Mignonette groundwork may also be tatted without cutting the thread if the initial ring leaves a very long tail. This tail may be drawn over to use after the last ring of the row is closed. The work changes directions and the new ring from the next row is started. The tail is then used to make that ring a split ring thus climbing out into the next row.




This tutorial on mignonette tatting is from "The Dictionary of Needlework, An Encyclopaedia of Artistic, Plain and Fancy Needlework" ©1882 by Sophia Frances Anne Caulfield and Blanche C. Saward, page 484. Many terms we deem old-fashioned are used in this explanation. Please note that DOUBLE = double stitch; PURL = picot; loop, oval = ring; draw up = close ring. The suggested thread size is 100! Suitable for bridal veils but you may use any size thread.








This original diagram may well throw off the new tatter. It is positioned at odds with the direction in which the mignonette will be tatted.








The actual direction of mignonette tatting (for right-handed tatters) is left to right as shown in the same diagram rotated 90 degrees.








Here is a typical handkerchief edging with a mignonette pattern.




This is a creative way of measuring the bare thread space between the rings, a hair clip! A piece of cardboard would work also as would a plastic page clip that you can hang over the thread. You might also wrap the bare thread around a picot gauge or needle one or two turns. Please be consistent in the measurements.




For further study of the mignonette stitch please review "Tatting Techniques" - Elgiva Nicholls Charles Schribner's Sons 1975/6 also. Elgiva also maintains that the mignonette stitch is not exactly a "stitch" but rather the result of a special type of joining pattern. It is described in her book (page 90) as: "An arrangement of one or more rings joined to a single thread upon which they are free to move." She attributes it to Mlle Riego...maybe so.

You Should Also Read:
Oeillet, Oval, Circle, and Loop all mean Ring.
Building a Tatting Library - Standards


Related Articles
Editor's Picks Articles
Top Ten Articles
Previous Features
Site Map





Content copyright © 2019 by Georgia Seitz. All rights reserved.
This content was written by Georgia Seitz. If you wish to use this content in any manner, you need written permission. Contact Georgia Seitz for details.