Other growth requirements for Epiphytic orchids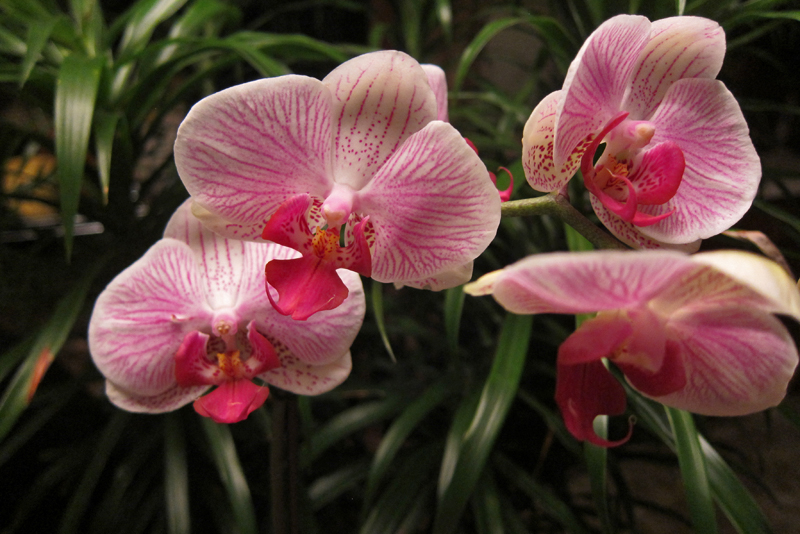 Apart from water, other requirements that need to be worked upon for successfully growing orchids are:

•Air Movements: Epiphytic orchids are naturally inclined to grow in high humid conditions. This is aided by good movement of air at the canopy level. As it normally rains heavily in the tropics, high humid conditions can be quite oppressive but this experienced more at the ground level. The air around the branches does not remain stagnant for long, which not only increases the rate of transpiration (rate at which the plant loses water from specialised pores called stomata), but also results in temperature fluctuations. While growing epiphytes, please try to maintain good air movement. This can be done by hanging the plant in an open place, or when growing inside your house or in a greenhouse you can use a ceiling fan (at slow speeds) or a desert cooler can also do the trick. Desert coolers also help in maintaining higher humidity.

•Temperature levels: Most epiphytic orchids flourish in warm to hot temperatures (from 50˚F to nearly about 113˚F). Hot conditions accompanied by high humidity are a sure recipe from good plant growth, provided that diseases are controlled. If you are located in colder climates, then it is best to maintain a greenhouse or keep your orchids inside where temperatures are controlled. Please remember, while keeping orchids under controlled temperature it is important to keep a check on humidity levels, as these tend to decrease in such situations.

•Light requirements: As most epiphytes are found in tropics, they love the sun. Most of these grow in partial sun light which is available through the canopy of leaves. So do not put your orchids in full sunlight. Though there are some orchid species which can tolerate full sun, most will dry out and eventually die. Best way to provide your orchid sunlight is to keep it at a place where the morning sun shines the most. Avoid afternoon sun at all costs, as this can burn your plant.

•Feeding your orchids: In nature epiphytes grow in conditions where nutrition is scarce. They make do with whatever they can extract from either the dust in the air (mostly probably) or through the percolating water which brings along nutrients exuded by the tree leaves or the bark. This, as you can imagine, is in very small quantities, so when providing fertilizers to your orchids don't overfeed. It is best to fertilize once in a month with a fertiliser which contains not only Nitrogen (N), Phosphorus (P), Potassium (K), but also micronutrients like Magnesium (Mg). You can also mix the fertiliser in the water when watering or in the spray pump.

•Growth medium: Growth medium is the substrate on which you grow your orchid. You can use anything from sphagnum moss, activated charcoal, to even the simple coconut husk, as the growth medium; provided the medium can store water and is porous enough to keep the roots dry in-between the watering periods. It is also advisable to keep a check on growth of fungus or any other pests in the medium.

While the above information has been generalised for epiphytic orchids, you should also inquire specie specific needs from the supplier.

Happy growing, if you have any query, please feel free to ask me in my Orchid Forum.

You Should Also Read:
Growth Requirements of Epiphytes
Orchid Ecology
Orchids - A Brief Introduction


Related Articles
Editor's Picks Articles
Top Ten Articles
Previous Features
Site Map





Content copyright © 2022 by Anu Dharmani. All rights reserved.
This content was written by Anu Dharmani. If you wish to use this content in any manner, you need written permission. Contact Anu Dharmani for details.