Hummus Recipe for Sandwiches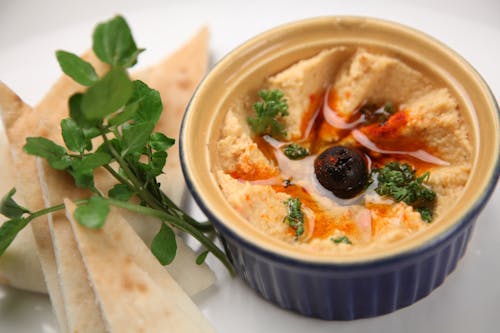 Throughout known time, hummus, by whatever regional name it goes by, has been a staple food in many Middle Eastern cultures. A simple dish, with complex flavors, it can be used in a variety of satisfying sandwiches. For store-bought hummus, I think that both the Sabra and Basha brands of hummus are tasty, but the best hummus is homemade.

What goes into hummus? The base is made from cooked chickpeas, also known as garbanzo beans. They are mashed and combined with tahini, lemon juice, spices and herbs. Tahini is a sesame butter. Sesame seeds are hulled, toasted, and ground into an oily paste. Tahini adds its own special, nutty taste to dishes. A good hummus has fresh lemon juice. There is absolutely no place in humus for lemon juice that comes out of a bottle! The same thing goes for garlic. Use pungent, fresh garlic for a full flavored spread. Here is an easy recipe to make, and it doesn't take a lot of time.


Hummus Recipe

Ingredients:

2 cans of garbanzo beans-use 15 ounce cans. Drain them and reserve the liquid.
¼ cup of tahini (I use Ziyad brand.)
¼ cup of freshly squeezed lemon juice
2-3 garlic cloves-finely minced
1 tablespoon of dried parsley or 2 tablespoons of fresh parsley.
¼ teaspoon of paprika
¼ teaspoon of cumin
¼ teaspoon of cayenne pepper or 1 teaspoon of Sriracha pepper sauce
¼ teaspoon Kosher or sea salt
¼ teaspoon of lemon pepper (You may use more, if you prefer.)
1 tablespoon of olive oil (I use Kirkland brand.)


Method:

In your food processor, pulse the garbanzo beans and tahini until it is a rough paste. Continue processing by adding the lemon juice and oil, until it is your desired consistency. If the paste is too thick, use the reserved liquid to thin it. This is the time to add the garlic, parsley, paprika, cumin, salt, and lemon pepper. Pulse to combine the ingredients. Adjust the spices until the spread suits your tastes.


Sandwich Variations:

Hummus Burrito: Place a fresh flour tortilla on a microwavable plate, and sprinkle the tortilla with shredded cheese. Microwave the tortilla until the cheese just melts. Spread the hummus over the cheese. Add finely chopped vegetables and leafy greens of your choice. Roll it up burrito-style, then slice it on the diagonal.

Hummus Tostada: On a crispy, fried flat corn tortilla, spread the hummus across the tortilla. Sprinkle with cheese and microwave until it is warm. Add salsa and leafy greens.

Hummus Pocket Pita: Warm the pita according to package directions. Spread a layer of hummus inside the pita. Add warm, roasted vegetables and leafy greens.

Step outside of the iceberg lettuce box when choosing your leafy greens. You could use spinach, Romaine, baby spring greens, butter lettuce, or alfalfa sprouts. You choose what makes your sandwich taste fresh!

Hummus is full of fiber and protein. The tahini and olive oils are good for your body. Then, there's the flavor factor. Hummus just tastes good! Enjoy your delicious hummus sandwiches. Let us know what creative ideas you had. Just post them in the BellaOnline Sandwiches Forum.


Related links: The Related Links below this article may be of interest to you. In the Italian Sub recipe, there is a short lesson on roasting vegetables.

When I mention stores or products by brand name, these are the ones that I use. I have not received free products from the manufacturers, nor have I been paid to mention the products or stores by name.

NEWSLETTER: I invite you to subscribe to our free weekly newsletter. This gives you all of the updates for the Sandwiches site. Sometimes, this newsletter has information and variations on sandwiches that are not in the articles. Fill in the blank below the article with your email address - which is never passed on beyond this site. We never sell or trade your personal information.


You Should Also Read:
Roasted Vegetable Italian Sub
Chopped Salad Recipe
Cucumber Onion and Dill Salad Recipe


Related Articles
Editor's Picks Articles
Top Ten Articles
Previous Features
Site Map





Content copyright © 2022 by Connie Mistler Davidson. All rights reserved.
This content was written by Connie Mistler Davidson. If you wish to use this content in any manner, you need written permission. Contact Connie Mistler Davidson for details.