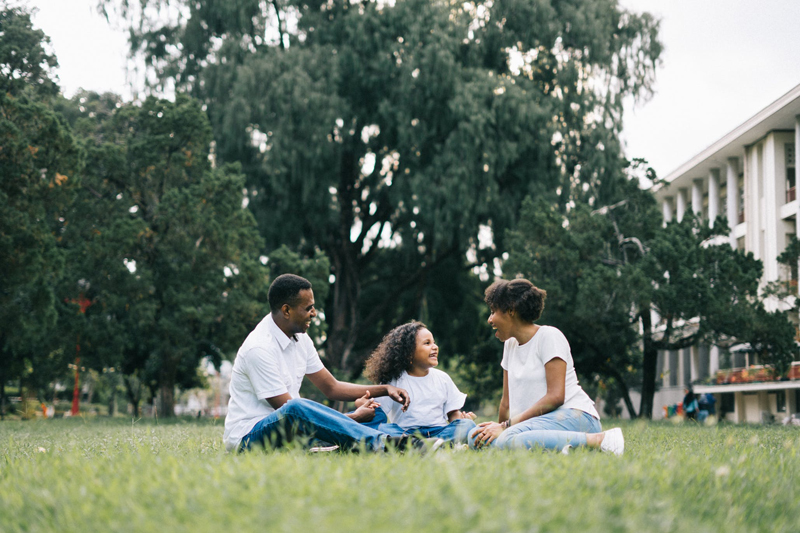 There is much that I am grateful for. I am grateful for life, health, strength, freedom, love. However, what I am most thankful for is my family. Not solely those who share the same DNA, but those also that share a common bond of love and unity. Those very friends who seem to have always been apart of my heart and spirit well before we had the pleasure of meeting each others acquaintance.

Coming off the proverbial high of Thanksgiving; relishing in the joys of coming together to fellowship and break bread with those we love—I am convinced more than ever before that there is power in family.

I openly confess that at one time (those college years when you think you are grown and wise) that I couldn't wait to get away from the hoard of people that were called my family. We are quite a large brood. I can be a very quiet person at times, and enjoy when things are calm and peaceful. That was not in order with my family.

The eldest of forty grandchildren (on my maternal side), I learned to become accustomed to large crowds. You can very well guess that family get together were not a small or quiet affair. Although we invited friends and distant relatives to the festivities, we were a party unto ourselves. My mother was one of eight, my father one of eleven. So, as you can see it was quite impossible to escape the crowds—no matter how many times I tried!

In the search of peace and quiet, I would try to find a quiet corner. It would last all of ten minutes, if that. I longed to get away. I longed to go away from the crowds and all of my cousins and just find some alone time. I can look back now and say, that if I knew then what I know now, I would have relished every moment and not have complained one iota about the loud, boisterous crowd that was my family. But then again, hindsight is always twenty twenty.

With maturity comes wisdom (hopefully). I now understand my Grams and my Nana's desire—actually, their demand that we always spent Thanksgiving together. As a child, you believe you have forever. You don't really think about getting older. It doesn't really cross your mind about your grandparents, or parents not being there. It doesn't enter your mind that your favorite Uncle may not be there when you get older. Because, as a child, you foolishly believe you have forever, and that your family is somehow immune to the tragedies that fall other families.

I now understand why my Grams, my Nana, and my Uncle stressed the importance of our family coming together. I now know the reason why my Uncle adored every holiday; especially Memorial Day —the official start of the barbeque season—where he'd always have his camera to capture every moment. They understood what we as children and young teenagers and young adults did not yet understand; that there is life affirming power in a family.

There is power in a family. There is something amazing that happens when you come together in unity with those who not only share your DNA, but those who have also been adopted into your brood, and accepted as family. There is strength and power that comes from all of that love circulating. For my Grams and my Nana, it was new life being pumped into their veins. For my Uncle, it was the joy and strength that came from the laughter and love from his siblings, parents, grandparents, his children and nieces and nephews.

Being in the company of my family this Thanksgiving reaffirmed what I had come to learn so long ago while away at college: that my family is very special, should never be taken for granted, and that not everyone has a family like mine.
I wish I could go back and bottle every moment. I wish I could go back and experience each moment all over again with a brand new perspective. But I can't. However, I can embrace the memories I do have and share them with my family.

My family is quiet spread abroad. We do not get together like we use to. My Grams, my Nana, and my Uncle are no longer here, though I feel their essence with us always. I miss those times at my Grams house. I miss those time of seventy plus people jammed into a two bedroom house, kids all over the place, laughter coming from every room, and my Grams at her stove loving every moment, while my Uncle, the family historian, is taking snapshot after snapshot. Yes...I miss those days.

I am grateful for what I have now. I am grateful for my family, and love that we hoard in our hearts for one another. I am grateful that my mother and her children can come together and draw strength and power from the love that burns bright in our hearts for one another. We don't even have to say a word; just be still, take a deep breath, and draw strength from the comfort of being in one another's presence. Family is powerful indeed.



Related Articles
Editor's Picks Articles
Top Ten Articles
Previous Features
Site Map





Content copyright © 2022 by Ruthe McDonald. All rights reserved.
This content was written by Ruthe McDonald. If you wish to use this content in any manner, you need written permission. Contact Ruthe McDonald for details.