Embodying Forms of Feminine Power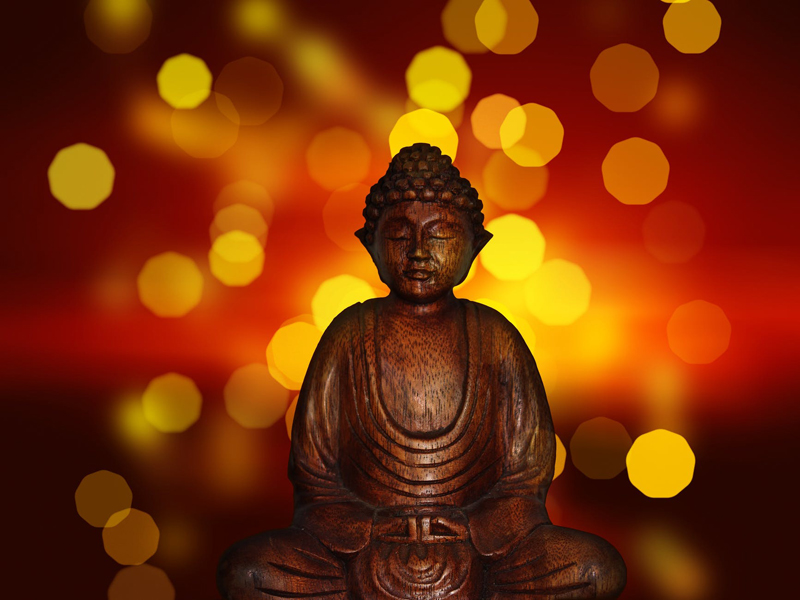 Tibetan Tantric Buddhism celebrates a wide-ranging constellation of deities. Among the goddesses, there are fierce protector goddesses (typically wrathful in appearance, with sharp teeth, and adorned with skulls and raw skins), goddesses of enlightened activity (such as Green Tara, with her right foot extended, ready to spring into action), and goddesses of compassion and serenity (such as White Tara, with seven eyes witnessing suffering, and with hands in the mudras of blessing and protection), among others. Each of these goddesses represents different forms of feminine power, spreading the gamut from terrifying to serene.
It is easy to imagine that these goddesses are worshiped as celestial beings. However, Tibetan Tantric Buddhism views these goddesses more as archetypes – as representative of specific energies, and as essential qualities that lay within each of us. Lama Thubten Yeshe wrote,
"To use the language of psychology, such a deity is an archetype of our own deepest nature, our most profound level of consciousness. In tantra we focus our attention on such an archetypal image and identify with it in order to arouse the deepest, most profound aspects of our being and bring them into our present reality." (Introduction to Tantra: A Vision of Totality [1987], p. 42)
In iconography, each goddess typically has specific jewelry, clothing, poses, and mudras. Many hold specific symbolic objects and ride particular animals. For each goddess, the myriad characteristics are collectively reflective of the energies that the goddess embodies, and draw attention to her strengths and gifts. In a traditional meditation, the practitioner first visualizes the goddess in exquisite detail, seated in front of the practitioner. Once the visualization is complete, the practitioner then visualizes merging with the goddess, eventually become herself the goddess, with all the details perfectly represented. As the innumerable accouterments develop ever clearer focus, the practitioner simultaneously taps more and more deeply into the goddess's associated wisdom and energy. The practitioner becomes more and more deeply attuned to the goddess. By meditating on a particular goddess, the practitioner may embody the goddess's specific qualities of feminine power.
Samantabhadri
While the depictions of Tibetan deities are typically ornate, there is one goddess, Samantabhadri, whose depiction reflects simplicity. She traditionally wears no clothing or jewelry, and holds no objects. She is either in Yab-Yum (sexual union) with Samantabhadra, or seated in lotus pose, with her hands rest in her lap in meditation. Her color is pure white.
Just as white is the color from which all colors derive, "the basis of all female deities is Samantabhadri. ...Samantabhadri is called the ground of emanation" – Tulku Urgyen Rinpoche (from the Introductory Teaching to the book Advice from the Lotus-Born: A Collection of Padmasambhavas Advice to the Dakini Yeshe Tsogyal and Other Close Disciples, by Padmasambhava (Author) , Marcia Binder Schmidt (Editor) , Erik Pema Kunsang (Translator),Rangjung Yeshe Publications, 2004).
Samantabhadri represents the awareness-wisdom aspect of the mind. Her naked, unadorned appearance reflects the essential nature of mind in its essence. She represents the aspect of Enlightenment in which delusion and conceptual thought have never arisen. She "is the expression of limitless space, the natural state that is the ultimate truth… Samantabhadri is the expression of that which cannot be expressed in words or symbols, the ultimate nature of mind, the limitless expanse of simplicity" (Dakini's Warm Breath: The Feminine Principle in Tibetan Buddhism, Judith Simmer-Brown, Shambhala, 2002).
Meditation on Samantabhadri is an invitation to let go of seeking, to let go of striving, to let go of accomplishing, to let go of ideas of power. It is an invitation to let go of thinking that you are a doer, and to let go of the belief that anything needs to be fixed. It is an invitation to rest in pure awareness.
A meditation on Samantabhadri reflects the classic Hindu meditation "Neti, Neti" – "not this, not this." Through this meditation, worldly experiences soften their hold on the mind, and pure awareness remains – the "suchness" (the essence) for which no definition applies… unconditional love… an unconditional "Yes" to the beauty of Being.
The singer Kirtana described this meditation beautifully in her song "Already Home, Already Free" on her album Unseen Grace.
Already Home, Already Free
Nothing to seek. Nothing to gain. Nothing to know.
Nothing to lose. Nothing to do, but let go.
Let's rest here, where the future and the past disappear… Here–in the sanctity of Now.
Nothing to prove. Nothing to own. No one to be.
Nowhere to move. Already home. Already Free.
Let's just stay in the cave of the heart today and bask in this ever-present love.
Nothing to fix. Nothing to change. Nothing to fight.
Only what is. What if What Is is just right.
Why not trust this Mystery living us and rest in the refuge of the Self.
Nothing to judge. No one to blame or fear. Only my face greeting me in the mirror.
Nowhere to turn. Nowhere to hide. Nobody else. Nothing outside that isn't inside myself.
Let's just see, is anyone here but me? Here–in the present moment now.
Nothing to know. Nothing to do. No one to be.
Nowhere to go. Already home. Already free.
Nowhere to go. Already home. Already free.
Nowhere to go. Already home. Already free.


Related Articles
Editor's Picks Articles
Top Ten Articles
Previous Features
Site Map



Follow @mommymystic
Tweet



Content copyright © 2023 by Robin King. All rights reserved.
This content was written by Robin King. If you wish to use this content in any manner, you need written permission. Contact Lisa Erickson for details.