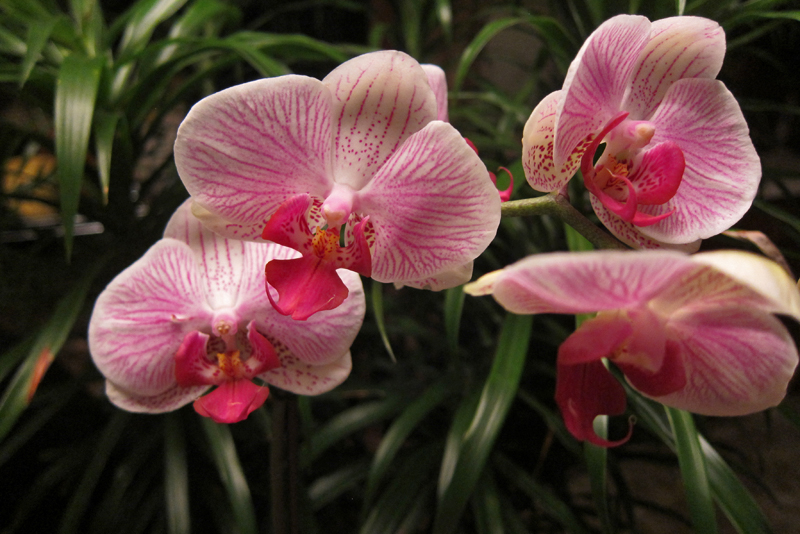 At some point, an orchid grower is going to find that there are insect pests on his or her orchids. Here is a listing of the most common pests and how to handle them. Unfortunately, most of these pests are rather difficult to eradicate once you have them, so good cultural practices which discourage them in the first place is the first and best line of defense.

Scale is an insect which generally forms a hard round spot about a millimeter across as an adult. The young are mobile and will show up as a white mass generally on the underside of leaves. Adult and young will also hide inside sheaths of Cattleyas and in between leaves of any kind of orchid. They are sucking insects which will cause yellow spots on the leaves, often the first indication that there is something wrong. There is also a soft shelled variety with much the same life cycle, but this is less common than the hard-shelled variety.

Once you have it, scale is almost impossible to eliminate. Constant vigilance and a regular spraying program will keep it under control. Use a soap-based spray for the white masses of young, this will suffocate them. A monthly application of a systemic (something that is absorbed into the plant and will kill any insect that sucks from that plant) is your best bet to control scale.

Mealy Bugs are generally noticed when white cottony sacks are noticed, especially on the undersides of leaves. These are the egg sacks which contain 300-600 eggs which will hatch in about 14 days. The eggs are almost impossible to kill, but an oil-based spray such as Neem oil will suffocate the insects themselves. This must be done on a weekly basis for about a month in order to catch all the insects. Again, a systemic will provide longer-term protection by killing any bugs that survive the spraying.

Spider Mites show up as small white dots on the undersides of leaves. Most of the time, the mites have moved from the plant by the time damage is noticed. The standard control for these insects is soap spray for adults with a follow-up of a systemic product.

With all insects that attack your plants, you will need to very carefully spray every part of the plant with soap spray. The soap will not kill any insect that it does not coat – the killing method is suffocation so the amount of spray directly on the insect is the important factor. The use of a monthly systemic such as Bayer Flower and Garden Insect Spray will greatly reduce the problems you have from any of these bugs that suck juices from plants.


You Should Also Read:
Scale--A Grower's Nightmare
Snails and Slugs
Neem Oil


Related Articles
Editor's Picks Articles
Top Ten Articles
Previous Features
Site Map





Content copyright © 2022 by Susan Taylor. All rights reserved.
This content was written by Susan Taylor. If you wish to use this content in any manner, you need written permission. Contact Anu Dharmani for details.