Bill Nelson - Getting the Holy Ghost Across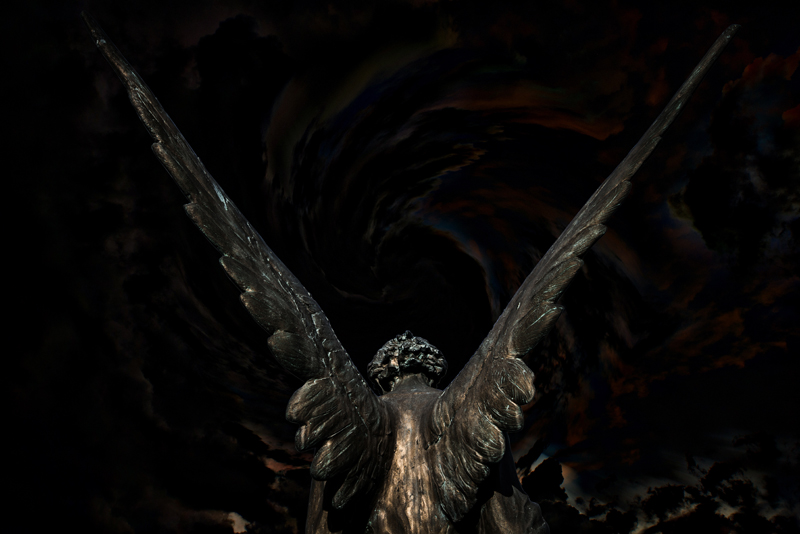 Bill Nelson is an artist that the phrase "criminally under-rated" might very well have been created for. As leader of the brilliant Be-Bop Deluxe and with his solo material, Nelson has continued to put forth inspired work without an eye on what some perceive as the holy grail of Top-40-dom.
Bill is not hard rock nor heavy metal. So what is he doing on this site? Well, for most of his career there has been a guitar hero at play, and six string fans will appreciate much of his music, that while perhaps lacks in volume, makes up for it in emotion and skill.
Some of his solo work has been thankfully re-released on CD recently. The latest offering is an excellent package combining the 1986 record
Getting the Holy Ghost Across
with two EPs,
Living for the Spangled Moment
and
Wildest Dreams
.
Getting the Holy Ghost Across
is a true gem. After the brief "Suvasini" delicately ushers you in to the party, "Contemplation" kicks things off and its relaxed but buoyant gait draws you in instantly. I was left with the image of a renegade helium balloon gleefully escaping the clutches of a toddler and making a break for the great wide open, on this track. At 8:47, it has time to build into a real hypnotizing exercise and an irresistible synth line snakes in and out making it the spine of the piece. Bill's velvety voice is unhurried and you're transported to places unknown. This is a perfect song to open the record.
"Theology" seems to echo some Fripp-isms and the keys are…well… subtly key to the track. "Wildest Dreams" is as captivating as "Contemplation". Like the shading was done with a Roxy Music brush on a Talking Heads illustration, a Mackay-like sax peeks in over a tropical-Byrne rhythm. Bill's vocal (particularly on the falsettos) is a Ferry/Bowie mix (or rather is he reflected in them? Hmmm…contemplation for another time is required). The short violin inclusion is a nice touch, adding a different component to the mix.
An eastern feel, reminiscent of Japan (
Tin Drum
era) drives "Lost in Your Mystery" while the exquisite chorus of "Rise Like a Fountain" makes this a stately monument indeed.
Up to now, things have enjoyed a real dreamy atmosphere but with "Age of Reason", things take on a slightly more urgent mission. Like a night out at a cool Cuban club, the enticing sax adds great color and you can imagine a packed dance floor for this one. The tempo increases for "The Hidden Flame", one of the best tracks on this record. Great vocal, great keys and great throbbing bass. How can we sum this up? How about…great? Just when you didn't think it couldn't get any better, the part I was really waiting for…some excellent Nelson guitar sneaking in for a bit of a go right near the end. Yes, he says… I likey.
As if reading my mind, Bill follows that track up with possibly my favorite moments on the record, "Because of You". I hate to negate the other tracks but this one scratches my itch where it needs it most. A funky rhythm is the bedrock on which the house is built and your feet can't help but move after the first few notes. Getting a cheeky guitar interjecting here and there makes you yearn for an out and out blowout but instead it demurely trades off with the sax, subscribing to the less is more theory.
As "Suvasini" was the usher taking your coat at the door, "Pansophia" gently hands it back and bids you farewell. All in all, clocking in at almost 46 minutes, Getting the Holy Ghost Across came, saw and conquered.
But that's not all folks. This is a two-CD set and the second disk is no shrinking violet either.
Besides two alternate versions of "Wildest Dreams", there is plenty to wade through. Among the best are the delicate "Feast of Lanterns" and the light touch of "Self Impersonation", both guitar-driven pieces, while the stately "Word for Word" has a terrifically tasty solo for the latter part of the song.
This package is just a joy to listen to for Nelson fans and stuffed with great material from beginning to end. Truly an individual, Bill's music deserves to have a wider audience and
Getting the Holy Ghost Across
proves that handily.
You can buy the disk
here


Related Articles
Editor's Picks Articles
Top Ten Articles
Previous Features
Site Map





Content copyright © 2019 by Morley Seaver. All rights reserved.
This content was written by Morley Seaver. If you wish to use this content in any manner, you need written permission. Contact Morley Seaver for details.