Norma Benporath's 3 Motifs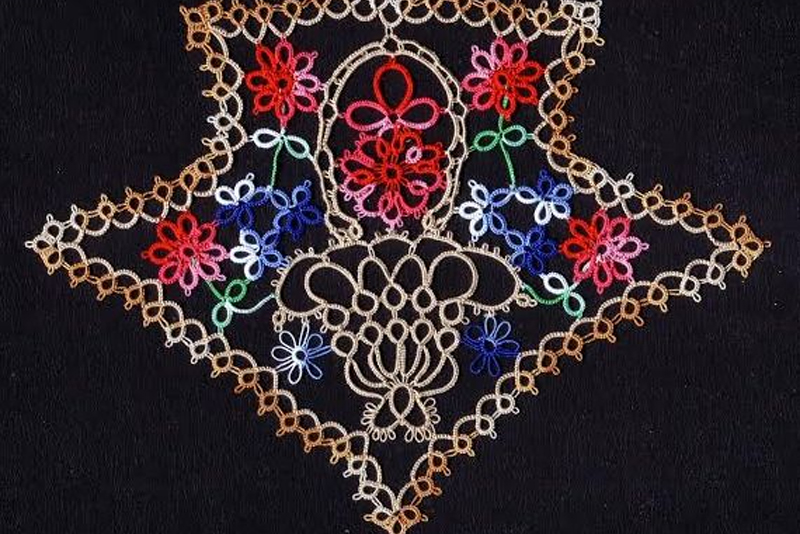 Three medallions by Norma Benporath
Norma Benporath was a Master Tatter from Australia. Her work with the Semco Publications and Home Beautiful Magazine has been featured here on BellaOnline.com several times.) These three medallions appeared in the Jan. 31, 1935 issue of The Queenslander on page 35. Below is her introduction to the tatting section. Keep in mind when you read her comments about the hot weather in January, that it would be high summer in Australia at that time.



Norma wrote: "My Dear Readers




It is perfect where I am today, with a soft breeze wafting the cool fragrance of the garden through my windows, but you can never be sure where the mercury will go in the summer time. At this period of the year few of you will care to do anything at all, but,. believe me, you will feel much less uncomfortable if your fingers and minds are occupied with some light but interesting work. The time will pass more quickly, and at the end of the day you will have the satisfaction of having created something lasting and beautiful.


That is why I have designed these new medallions in tatting for you. They do not require a great deal of exacting concentration, and in addition to being quickly and easily worked can be used for many interesting things.


During the hot weather it is almost impossible to keep white tattings perfectly white, so I am suggesting that you work these new medallions in cream linen-coloured thread, which, in addition to being delightfully smooth, and quick for working, will not become soiled as white threads would do. You can mount the medallions in cream linens or various kinds, which will also be ideal for the Queensland climate, always looking fresh and crisply cool without requiring constant laundering.


I am always interested to receive letters from my readers, to hear new of the work you are doing, and also to give you any help with your tatting which you may need at ant time.


With kind regards to you all, and best wishes for many hours spent with shuttle and thread, Yours, Sincerely, Norma Benporath"







Top = Unusual medallion, Left = Large Square Medallion, Right = Small Square Medallion








The original newspaper page with all three patterns.



The pattern for the small square medallion has been rewritten using modern tatting techniques.



Using two shuttles begin with the four rings in the center.

R 7 - 3 - 7 clr leave no bare thread dnrw

R 7 - 3 - 7 clr leave no bare thread dnrw

R 7 - 3 - 7 clr leave no bare thread dnrw

Split ring 7 / 7 - 3 close ring and make mock picot to climb out into second round.



Split ring 3 - 3 - 3 / 3 - 3 - clr rw

CH 5 - 5 - 5 - 5 rw

*R 3 - 3 - 3 + (join to first picot on the next center ring) 3 - 3 - clr

CH 3, 9 p sep by 3 ds, 3 rw

R 3 - 3 + (join to the next to last picot of previous ring) 3 + (join to second picot on the same center ring) 3 - 3 - clr

CH 5 - 5 - 5 - 5 rw

*Repeat around.



In the original pattern, the four cloverleaf motifs were tatted separately and joined to the second row using both picots of the shortest chains.

R 5 + (join to the first picot of one of the short chains) 3, 5 p separated by 3 ds, 3 clr. dnrw

R 3 + (join to last picot of previous ring) 3, 6 p separated by 3 ds, 3 clr. dnrw

R 3 + (join to last picot of previous ring) 3, 4 p separated by 3 ds, 3 + (join to the second picot of the short chain) 5 clr finish off ends.



However, if you make the first ring of the cloverleaf a self-closing mock ring (scmr)when tatting the short chain in the second round, you can throw off the large middle ring and the side ring of the cloverleaf motif as floating rings off the scmr. Thus, four additional sets of tail would be eliminated!



Look for the other two motifs in upcoming articles here on BellaOnline.com!





You Should Also Read:
Oval Shuttle Motif


Related Articles
Editor's Picks Articles
Top Ten Articles
Previous Features
Site Map





Content copyright © 2023 by Georgia Seitz. All rights reserved.
This content was written by Georgia Seitz. If you wish to use this content in any manner, you need written permission. Contact Georgia Seitz for details.