St. Gertrude Museum Tatting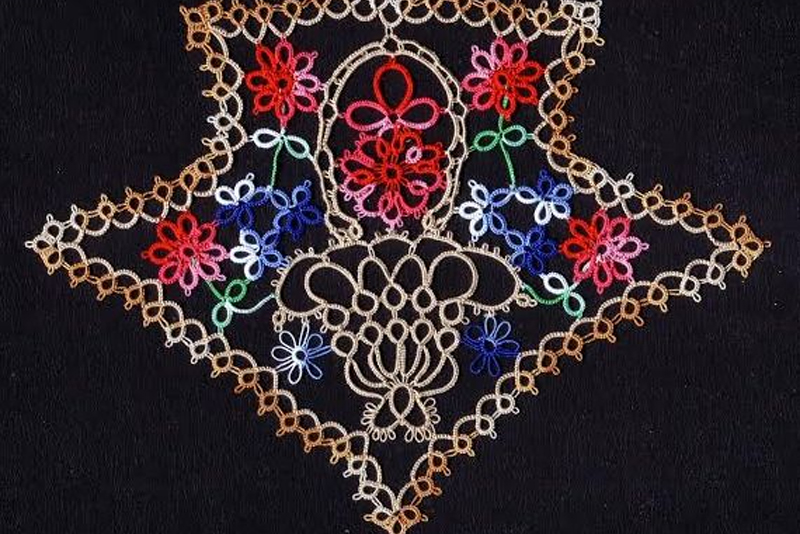 Tatted Lace at the Monastery of St. Gertrude Museum in Cottonwood Idaho





After the Spokane Shuttlebirds Tat Days, April 25-26, 2014, where I was one of many teachers and students enjoying a wonderful tatting event, I was invited down to the Northern Idaho Correctional Facility to teach tatting to a group of young men. (These offenders were not violent criminals but just guys who did something stupid.) The institution was located in Cottonwood, Idaho. Much to my surprise I learned that their next door neighbor was the Monastery of St. Gertrude. I was further surprised to learn that the inhabitants of the monastery were not monks but Benedictine Sisters.



And, there was a museum. And, the sisters made lace.







St. Gertrude's Monastery and Chapel are listed on the National Register of Historic Places. The Roman style altar is housed under a 27-foot baldachin ornately carved and imported from Germany. A gift from the family of a Sister. The altar was carried by freight train and at the end by four-horse wagon in 1928. The building begun in 1919 and finished in 1924 was further enhanced with side shrines. It is now a serenely beautiful atmosphere for the Sisters who stop to pray three times a day. There are also extensive grounds with the stations of the cross and a retreat building open to the public. BTW, the Spirit Center Retreat would make an excellent spot for a tatting event.




I was given a personal tour of the Historical Museum by docent Debra Graham accompanied by a volunteer photographer who works at the correctional facility. I admit to overwhelming them both with my enthusiasm but I was so thrilled. Debra opened drawers and unpacked boxes or all kinds of lace. And my photographer, Ms. Thomason, clicked at everything at which I pointed without demur.



Here are a few tatted pieces from the museum.








A tatted edging familiar to all tatters.








A religious theme piece done in single strand embroidery and edged with tatting.








Covering on the old altar, net lace darning and tatting.










Simple lace edging.

Pattern:

R 6 - 8 - 6 clr rw

CH 10 - 2 - 2 - 10 - 10 rw

R 6 - 8 - 6 clr rw

*CH 10 - 10 rw

R 6 + 8 - 6 clr rw Repeat from * for a total of 7 rings.

Join last ring to first ring and new chain to earlier chain opposite.

CH 10 + 10 - 2 - 2 - 10 rw

R 6 + (join to chain opposite) 8 - 6 clr rw










Simple cross bookmark.

Pattern:

Tassel ring has 12 p separated by 1 ds

CH length desired rw

CH with 5 p separated by 2 ds rw
R 4 + (join to the beginning of the previous chain) 4 - 4 - 4 clr rw
CH with 5 p separated by 2 ds rw
R 4 + (join to previous ring) 4 - 4 - 4 clr rw Repeat on arms with 4 ds chain at the elbows joining as shown.








Georgia Seitz with mannequin wearing vintage linen dress with needle lace. (Georgia is on the left :)




You Should Also Read:
Vintage tatting


Related Articles
Editor's Picks Articles
Top Ten Articles
Previous Features
Site Map





Content copyright © 2023 by Georgia Seitz. All rights reserved.
This content was written by Georgia Seitz. If you wish to use this content in any manner, you need written permission. Contact Georgia Seitz for details.