Betty Albertson 8 pt motif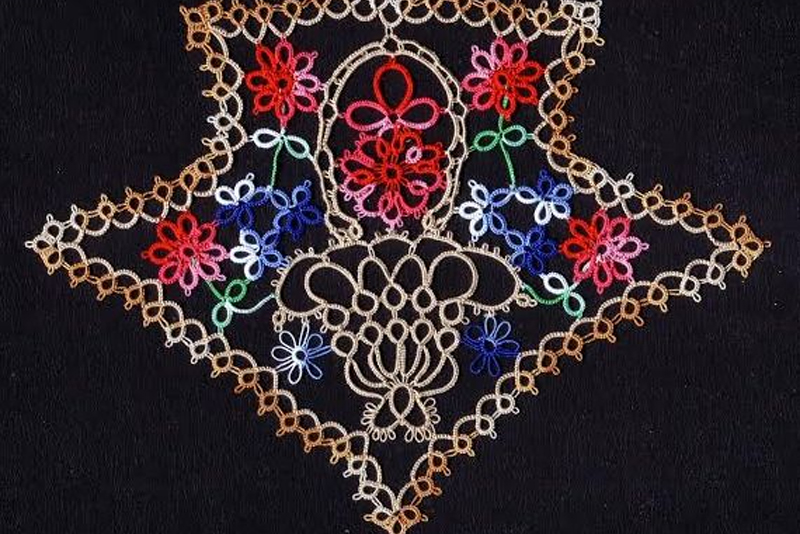 8-pt. Motif by Betty Albertson
Betty Albertson was a participant in Book 5 of the Ribbonwinners Series, "Tatting with Friends" edited by Georgia Seitz 1995 (op) She was a great tatting teacher. Her pattern of an eight point motif offers exercises in multiple joins, climbing out from a round center ring through a mock picot to reduce the number of cuts to the thread and varying the length of picots used for construction purposes only and decorative picots.









Center ring of 7 picots separated by 1 double stitch.

Climb out with mock picot into chain.

*CH 4 RW

R 2 - 2 - 2 - 2 clr rw (These are all decorative picots.)

CH 4 + (shuttle lock join to next picot of center ring)

Repeat from * seven times.

After last join continue to chain.

CH 7 vsp (very small picot for joining) 7 - (decorative picot)7 vsp 7

Shuttle lock join over previous join to the picot of the center ring or to a bar on the back of the work.

CH 7 + (join to previous chain) 7 - 7 vsp

Shuttle lock join as before and continue around.




Beads may be added to both the ring and the chains. Count the number of beads needed for the rings and place them on the shuttle thread and wind them in as the shuttle is
wound. Beads for the chains should be placed on the ball thread or shuttle two. To tat this
in one thread, place all beads on the ball thread, divide into sh1 and sh2 and wind sh1.
For variation try placing bugle beads on the picots on the center ring. This means that the
last picot will pull one bugle bead from the ball thread and one bugle bead from the sh1
thread.




Also consider placing extra beads on shuttle 1 and placing them on the core thread of the chains so that the decorative beaded picots sit upon a bead also. For greater stability, the last row of chains may join to the center picot of the rings, also. If so, try placing an extra bead over the picot as it is joined for a multi layer bead effect.

You Should Also Read:
Joins Onion Ring, LHPJ, Inverted
Split Chain


Related Articles
Editor's Picks Articles
Top Ten Articles
Previous Features
Site Map





Content copyright © 2018 by Georgia Seitz. All rights reserved.
This content was written by Georgia Seitz. If you wish to use this content in any manner, you need written permission. Contact Georgia Seitz for details.