Tatting Fantasia 4 by Iris Niebach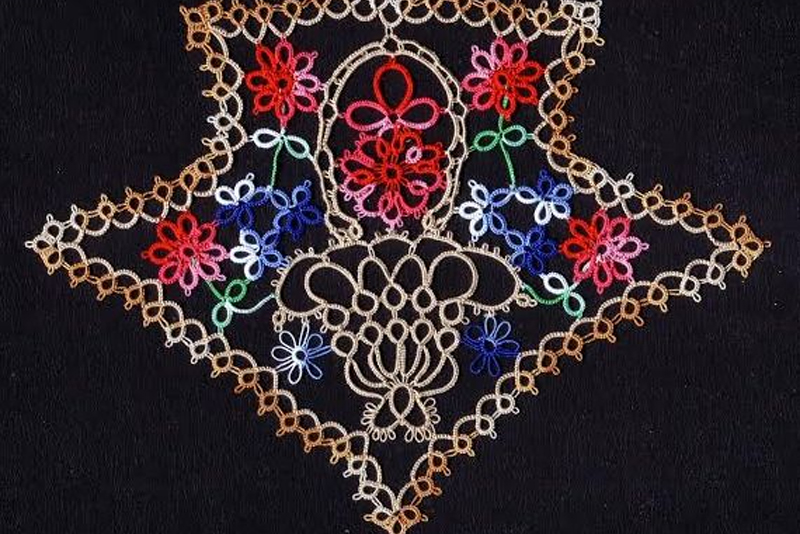 Tatting Fantasia 4 by Iris Niebach
The internet has made the world of tatting more international than ever before. So I am not surprised to see the new "Tatting Fantasia 4" reflecting this cosmopolitan feel. Each of the dozen tatting projects included are named after a different well-known city. There is Florence, Tokyo, Amsterdam, Berlin, New York and Paris. Plus London, Frankfurt, Toronto, Moscow, Barcellona and Madrid. Each of Iris Niebach's new designs is displayed as an embellishment to decorative boxes which had been hand-crafted as a gift from Inga Madsen from Denmark. (Inga is the designer of "12 Tatted Fairy-Tales. Inga intends to soon publish a book detailing the construction of the boxes.)


| | |
| --- | --- |
| | |
Eight of the designs stand alone as a decoration for the boxes, however, there are three intricate doilies and an all-purpose flower. Many of the motifs maybe joined in multiples to create larger pieces or attractive designs. "Moscow" and "London" have hidden twists to them but you will have to search for them yourself. Some of these designs are not just there to look pretty. Some are secretly teaching patterns.




For example, the innocent "Barcellona" flower starts out with three colors of thread and a chain. No ordinary chain, no, indeed, but a pearl tatted or maltese chain. Alternating one color to place ds on the core thread and throw off floating rings with the second color to wrap ds on the core thread and throw off the smaller inner rings, the entire faux chain (known as a self-closing mock ring) is then joined into a circle. The first two colors now form a padded core and the third color wraps ds over them to create a stem for the flower. And Olé! it's done.




Well, not yet. A fourth color is added and these two green colors create another padded chain with only inner rings. This pearl tatted self-closing mock ring also forms into as circle. And this creates leaves for the flower. And in case the pearl tatted or maltese chain/ring is new to the tatter, Iris added a two page full color step by step tutorial for it. Included also is a tutorial on making the daisy picot and tatting a cluny leaf. The cluny tatting is used in the Firenze and Madrid designs. Study the layout for the cluny wrapping of the loom carefully, as there is a hidden twist there.




And if you like beaded tatting, the Berlin motif is just right for you. Beads in the center of a ring. Beads on joined picots. Beads added over picots. Beads, beads everywhere! A charming motif that begs for Sawrowski crystals and faceted faux gems. Give this book a try. I know you will like it, I did!



Paperbound,©2013, 36 pages, 8.5" x 8.5" (22 x 22 cm) full color. Directions are given in both English and German. All illustrations and diagrams are clear and easy to read.




Note: I acquired this book for my personal tatting reference library.G. Seitz




You Should Also Read:
Nina Libin - Beaded Pearl Tatting BK 17
Beaded Needle Tatting Basics


Related Articles
Editor's Picks Articles
Top Ten Articles
Previous Features
Site Map





Content copyright © 2019 by Georgia Seitz. All rights reserved.
This content was written by Georgia Seitz. If you wish to use this content in any manner, you need written permission. Contact Georgia Seitz for details.