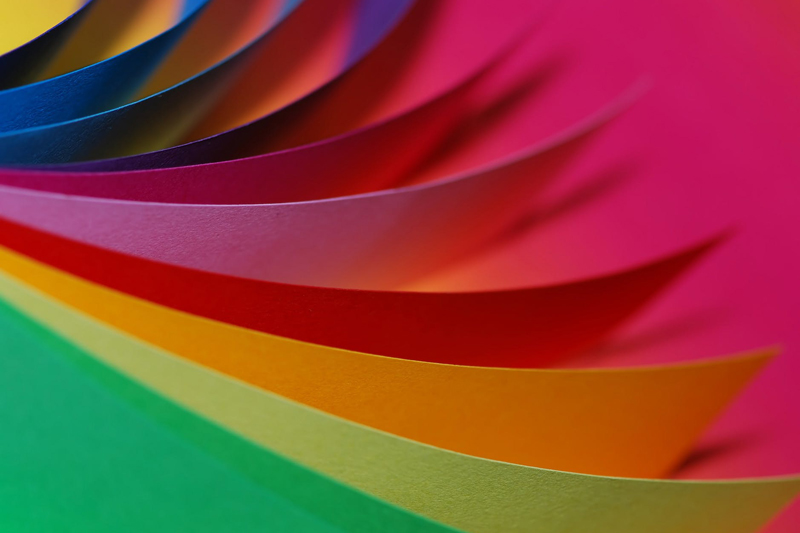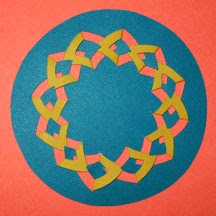 Incire is a paper craft technique that involves cutting a series of angles and curves on paper with the help of a template, folding back the shapes, and then tucking them under the adjacent slits to make it look like the paper is braided or woven. This effect is best achieved with duo colored paper (paper with a different color on each side) or vellum so that the interlocking paper can be easily seen.

Incire is sometimes called Lacé, after the line of templates and cutting tools created by the Dutch company Kars and Company b.v. but which has since been discontinued. Incire is said to use more intricate patterns, while Lacé is more straightforward. Today there are templates made by other companies, as well as dies which can be used by most die cut machines like the Cuttlebug. The advantage of using dies, of course, is that it saves time and effort especially if you're making a lot of cards, as in the case of invitations.
If you don't have a metal template, you can search for and download free templates from the web. Simply print out the template, tape it onto your paper using low-tack tape and cut through both the template and the paper. If you wish, you can cut around the general shape of the template, whether it's a border, medallion, square, etc. Then proceed with scoring and folding the cut paper and embellishing the card.
If you're cutting paper manually using templates, you'll need a sharp craft knife (like an X-acto) and a cutting mat, although experts say cutting on a glass sheet is actually better as the blade doesn't get caught in the cutting surface, thus making it easier to cut curves.
Another tip: when cutting the angles is to start at the point where the lines meet, and cut towards the end of one line; repeat with the other line. When cutting curves, start at the end of the curve and work your way to the other end.
Once all the lines have been cut, you then score and fold the paper either up or down, depending on the pattern, using a bone folder if desired. The sections are then tucked under the adjacent slits.
The resulting braided paper can then be layered onto a background of a contrasting color to show off the design, and then further embellished with rubber stamped images, punched or die cut shapes, or quilled flowers as desired.
Below are some resources to check out. Have fun!
Downloadable templates
Extreme Cards and Paper Crafting offers some downloadable incire templates in PDF, DXF and SVG formats:
Incire Ornament
Incire Christmas Tree
Incire Valentine
Pre-cut cards
Dianne's Die Cuts.
Pre-cut paper ready for folding in various designs and colors, sold in packs.
Templates and dies
Pop Ups, Etc.
An online shop that carries FOLD-em templates and GEO-dies, as well as pre-cut FOLD-em cards.
Ecstasy Crafts
. An online store where you can buy Incire brand templates.
Hobbyshop Nellie Snellen
. The home of Nellie Snellen incire dies.
Spellbinders
. Get their line of Shapeabilities Cut-Fold-Tuck dies here.
Terryfic Times
. A retail store in Cornelius, NC, that also accepts email orders. It carries templates from Lacé, Incire, ATD Cut and Fold, and Cut 'n Tuc.
Kamya. An online craft store that sells the original Lacé templates and tools. It also offers Lacé dies by cART-Us.
Lacé templates
Lacé tools
Lacé dies
Books
Lace Greetings Cards (Greetings Cards series)
by Melanie Hendrick. This book explains how to combine Lacé with other techniques to make greeting cards, tags, bookmarks and photo corners. She also explains how to make your own Lacé template.
Incire: The Basics of Paper Cutting
by Nellie Snellen. The book shows you the basics of incire using templates, and includes lovely examples to serve as inspiration.
Craft Special's Lacé books
by Gerda Perik. A series of seven books that show you how to make cards using the Lacé brand of templates.


Related Articles
Editor's Picks Articles
Top Ten Articles
Previous Features
Site Map





Content copyright © 2023 by Mia C. Goloy. All rights reserved.
This content was written by Mia C. Goloy. If you wish to use this content in any manner, you need written permission. Contact Mia C. Goloy for details.