Summer Prep for Houseplants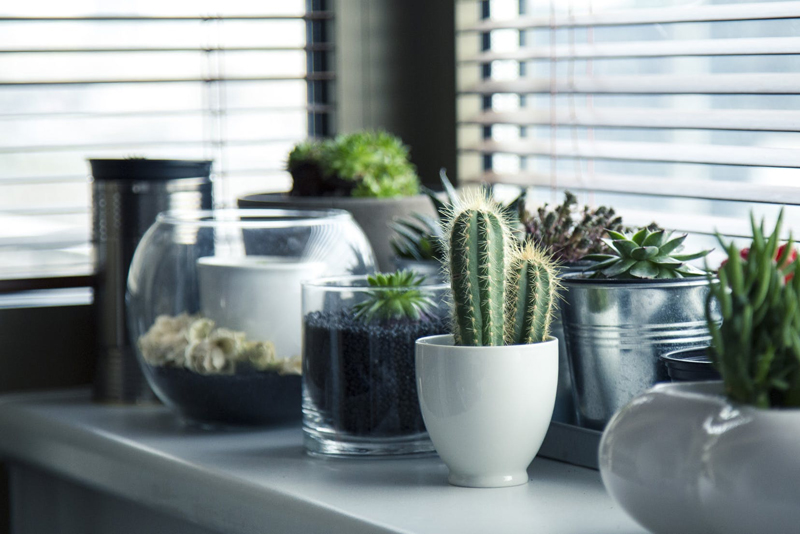 The days are long and warm and and that means your houseplants are soaking up the sun and putting out fresh new growth. To give them a great a start check out this quick guide.

Container and Plant

Inspection Time. Give all pots and planters a good looking over. Keep an eye out for cracks, mold, and signs of rot. Minor cracks are fine, but if there are any that affect the overall integrity or stability of the container, it should be discarded. Moldy pots can be cleaned by scrubbing with a mixture of 2 parts hot, soapy water and 1 part bleach.

This is also a good time to inspect the plants themselves. Prune away any dead or dying leaves and any debris that may be lying on the soil surface, then gently slide the plant out of its pot. Examine the roots carefully and look for any brown, black or mushy ones. Healthy roots are whitish and firm. Any that appear to be dead or rotted can be trimmed away with a pair of sharp scissors. Check for insects as well-root mealy bugs will appear as fuzzy cotton like tuffs and can be rinsed away under running water.

Repot. Are there roots poking out of the drainage holes or are they wrapped tightly around the soil? That's a sign it's time to repot. While some houseplants actually prefer being a little root bound, most appreciate being repotted so they can stretch their roots out. Use a good quality potting mix such as Miracle-Gro or Schultz.

Many nurseries and garden centers offer their own mixes which are also very good. (Avoid the cheap/generic brands as most of them will turn to mud when wet and then harden when dry. Neither is good for plants! Never ever use garden soil from outdoors either as there is a risk of bringing in insects and diseases with it.) Use a pot no more than one size bigger than the one the plant is in now. Make sure it has good drainage.

Remove the plant from its old pot and shake off as much of the old soil as possible, and if badly root bound, tease the roots apart as much as you can. Place in the new pot, add soil and lightly pat down, then water. When repotting a cactus, use heavy gloves or a ring made of several layers of heavy newspaper to protect hands from the spines.

Housekeeping

Topdressing. For large plants or those that don't show signs of being root bound, simply remove the first few inches of soil around the plant and replace with fresh soil.

Cleaning. For large plants or those with large leaves, wipe them down with a soft, slightly damp cloth. For other plants, give them a gentle misting under the tap or in the shower. Plants with fuzzy leaves, such as African Violets, don't like getting wet, so leave them be. For plants such as Pothos or Ivy that tend to grow long vines, don't be afraid to cut them back a few inches or more. This will encourage new growth,

Starting Fresh. This is the perfect time to take cuttings and start new plants. The cuttings can be rooted in water or soil. Some of the quickest to root plants are Jade, Swedish Ivy, and Philodendron.

This site needs an editor - click to learn more!


Related Articles
Editor's Picks Articles
Top Ten Articles
Previous Features
Site Map





Content copyright © 2021 by Sue Walsh. All rights reserved.
This content was written by Sue Walsh. If you wish to use this content in any manner, you need written permission. Contact BellaOnline Administration for details.