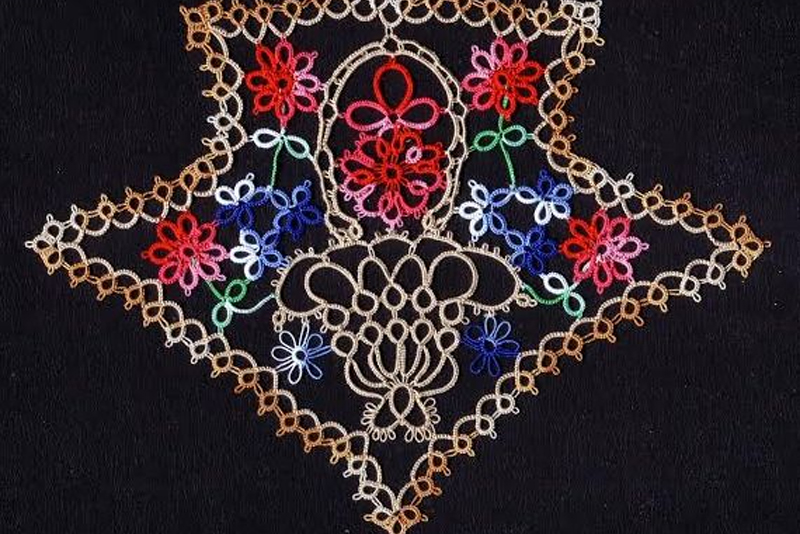 Tatted Edging No.3 Pg. 1 New tatted model by Phyllis Schmidt
This is an alternative style "onion ring." Here the small ring is completed and dangles free while the larger ring is tatted. When both are completed, the smaller ring is folded back to sit inside the larger ring. To secure them together a shuttle lock join is made by pulling a loop of the shuttle thread up through both rings near the bottoms (where they closed) and then slipping the shuttle through the loop and tightening it down.



Note: There are 4 ds between each picot or join.



Small ring: R 4 - 4 - 4 - 4 clr dnrw leave no space

Large ring: R of 10 picots separated by 4 ds clr dnrw

Fold small ring over and center it inside the larger ring.

Shuttle lock join both rings together with a shuttle lock join. rw

CH 4 - 4 - 4 - 4 - 4 - 4 rw



Repeat:

Small ring: R 4 - 4 - 4 - 4 clr dnrw leave no space

Large ring: R 4 - 4 + (join to the next to the last picot of the previous large ring) 4, ( - 4) x 8 (total of 10 picots clr dnrw

Fold small ring over and center it inside the larger ring.

Shuttle lock join both rings together with a shuttle lock join. rw

CH 4 + (join to last picot of previous chain) 4 - 4 - 4 - 4 - 4 rw







Tatted Edging No.3 Pg. 1 New tatted model by Phyllis Schmidt Alternative Method



Phyllis Schmidt has worked out another method to tat this pattern using Aurora Lozado's capture method.



Ch = chain

R = ring

Cl r = close ring

RW = reverse work

ds = double stitch

p = picot



Techniques: Rings, chains, onion rings



Onion Ring Method by Aurora Lozado:

Make first ring

Close to this ring make another ring: Do one ds, fold first ring so it is between working and core thread, then tat rest of stitches.



Onion Ring:

*R (4 ds, p) 3 times, 4 ds, cl r.

Close to this, make a ring of (4 ds, p) 10 times, 4 ds, cl r. RW.



Ch (4 ds, p) 5 times, 4 ds. RW.*



Repeat * to * fastening large rings together by 2nd p and chains by first p for length desired.




You Should Also Read:
40 Designs Nellie Hall Youngburg
Vintage Patterns


Related Articles
Editor's Picks Articles
Top Ten Articles
Previous Features
Site Map





Content copyright © 2023 by Georgia Seitz. All rights reserved.
This content was written by Georgia Seitz. If you wish to use this content in any manner, you need written permission. Contact Georgia Seitz for details.