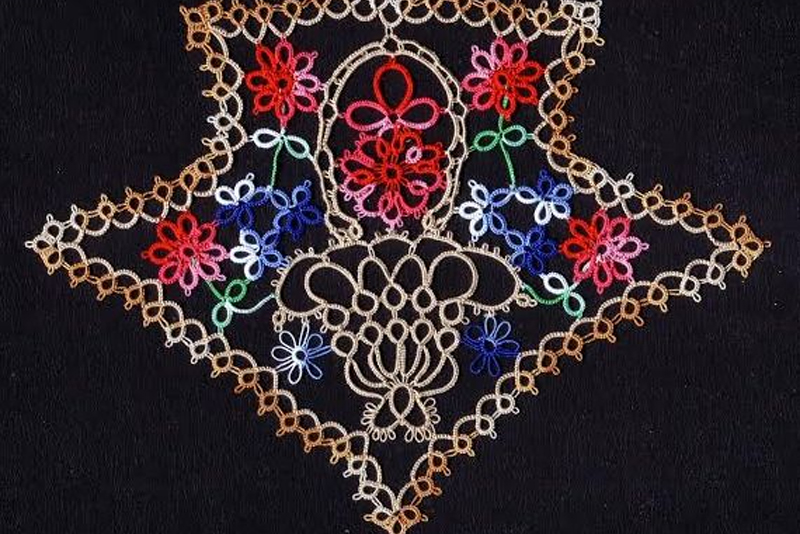 Prison Tats; Or, Teaching Tatting at a Correctional Facility.
I have tatted for 39 years. I have taught tatting for 29 years. I have demonstrated tatting in a log cabin and a fancy ballroom. I have pulled out my shoelaces and taught a new tatter the flip while waiting in the grocery checkout line. I have captured the attention of 8-11 year old children at 4-H camp and got them tatting in an hour. (I felt uneasy about putting tatting needles in their hands but it all worked out ok.) I have pulled out my shuttle and a handful of flat paper shuttles while waiting in an oncology waiting room and distracted waiting family members.


I have taught at senior centers and convention centers. I have taught large groups and small. I have shown tatters how to improve their work in libraries and in bars. But this was the first time I have ever taught BEHIND bars!




So, here I am waiting for the gates to be unlocked at the Northern Idaho Correctional Institute posed beneath the No Contraband sign. Contraband? Did they mean sharp objects like needles, scissors, pins, shuttle points. Oh My! I thought my class was canceled before I even got checked in. However, I would have my own personal guard, so no problems. In fact, this facility did not house violent criminals, at all, I was told. Just fellows who had done something unwise like run up a 100 parking tickets. I continued on undaunted.




My new tatting students were surprised as I was introduced. I noted that a few of them had wide open eyes and a smile both of which disappeared when I explained that tatting was making lace not inking skin. Realizing that tattooing was not the class of the day did get a great laugh from them. So I started right in to teach.








I was actually surprised to see how quickly these young people grasped the mechanics of tatting and started right in on the flip.








Here was the first successful chain made.








Even the regular teaching staff and counselors got in on the action!




By the end of the visit, about 50 staff and "students" had been introduced to tatting and some had even progressed enough to help others get going. Being such young men mostly, I do not know if they will ever try it again. But there is hope. That young man who made the first chain received permission to send his first piece of tatting to his daughter by mail. And he told me that he would be sure to teach her how to do it.



Each one, teach one.




I made my getaway OK. It was a unique experience. I hope that everyone has an opportunity to tat in an unusual situation like this. The facility and staff were very gracious and the young people so polite.


You Should Also Read:
Reading,Writing and Diagramming
Building a Tatting Library -Techniques


Related Articles
Editor's Picks Articles
Top Ten Articles
Previous Features
Site Map





Content copyright © 2023 by Georgia Seitz. All rights reserved.
This content was written by Georgia Seitz. If you wish to use this content in any manner, you need written permission. Contact Georgia Seitz for details.