Madagascar - Unique Wildlife and Tropical Beaches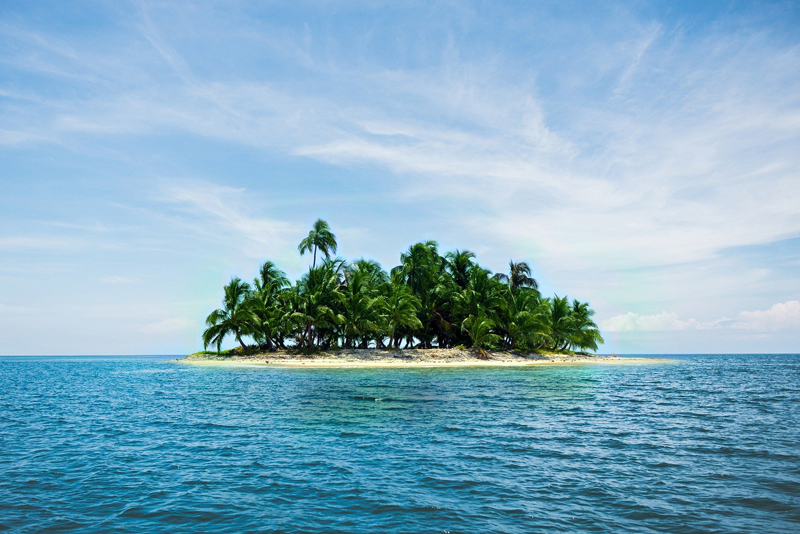 Off the southeastern coast of Africa, surrounded by the dazzling tropical waters of the Indian Ocean, the island of Madagascar intrigues visitors with its variety of unusual habitats and truly unique wildlife. This island divided so very long ago from the continent of Africa and the sub-continent of India that its plants and animals have developed over time in complete isolation, thereby creating one of the true hot spots of biodiversity in the world.
Madagascar is actually quite a large island – fourth largest in the world, in fact – at over 200,000 sq. miles it is nearly twice the size of the state of Arizona and more than two times the size of Britain. So don't expect to see all of it in one short trip. You either need to spend at least a month here or come back multiple times to truly get a sense of all that Madagascar has to offer. This becomes even more apparent when you understand some of the limitations of the island infrastructure and the climate – there are paved roads in most places, but even they often become unpassable in the rainy season. There are 84 airports on the island which enables you to fly rather than drive over the winding, bumpy roads, but only 27 of the 84 airports have paved runways. So plan your visit carefully to ensure you see what's most important to you.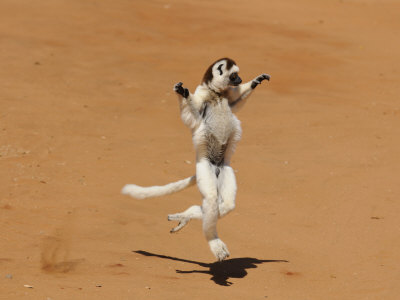 Dancing sifaka, Private Parc de Berenty, Southern Madagascar, Africa
Buy From Art.com
Like most tropical destinations in the southern hemisphere, the best time to visit Madagascar is in their "winter" – April to October – since the temperatures are cooler than the really hot summers and it is much, much dryer. November to March is the rainy season and cyclone season. But note – if you want to visit the "hauts plateaux", or highlands, in the center of the island, including the capital city of Antananarivo, then in the winter it can actually get quite chilly there, possibly even with freezing rain. So plan accordingly. The other thing to keep in mind is that Europeans tend to fill the hotels during their school holidays in April, and again in July/August.
But whatever time you choose to visit, Madagascar will have unique experiences for you. Wildlife viewing is a must. You will see animals that cannot be seen in the wild anywhere else in the world – such as nearly 100 species and sub-species of lemurs, which developed here in the absence of other primates. Maybe you'll see the Coquerel's sifaka, a distinctive species of lemur that has been the subject of many photographs and YouTube videos for their ability to leap like kangaroos. Or, if you're out at night, perhaps you'll spot one of the rare aye-aye – another species of lemur that is the world's largest nocturnal primate. Or look for the natural enemy of the lemurs – the cat-like carnivorous "fossa" which has a face that somewhat resembles a mongoose. Or hundreds of species of chameleons. If you're a birder, then Madagascar has many treats for you as well like crested or blue couas, sickle-billed vangas, crab plovers, white-tailed tropic-birds and many more. Apparently over 300 species of birds have been recorded on the island of Madagascar, and nearly 60% of them are endemic.
And then there's the sea life. We must not forget the gorgeous Indian Ocean that surrounds the island. It is on the migratory path of humpback whales – which can best be spotted between July and September. There are some amazing snorkeling and scuba diving spots around Madagascar where you can look for skates, morays, lion fish, crocodile fish, dolphins, sea turtles and much more.
Or maybe you're more into the unique scenery of Madagascar. You could visit the "Avenue of the Baobab"; explore the subterranean caverns and karst formations near Anjajavy; photograph the forest of limestone needles at Tsingy De Bemaraha Strict Nature Reserve; or take a raft trip down the Mangoky River through the unique "spiny forests" of the southwestern part of the island.
Whatever your plans may be for a visit to Madagascar, do not delay it for too long. Sadly the conservation efforts that were put in place by the last elected government are once again at risk since the political coup in 2009. Over time Madagascar has lost an estimated 90% of its original forest through human settlement and the local cultural practices of slash-and-burn. The widespread destruction of habitat has forced many of the unique species of the island into extinction or onto endangered species lists. We can only hope that true democracy will return to Madagascar soon and there will again be a push to protect the phenomenal landscapes and habitats.
Note: no promotional consideration was provided or paid for this article.


Related Articles
Editor's Picks Articles
Top Ten Articles
Previous Features
Site Map





Content copyright © 2023 by Laura Hartney. All rights reserved.
This content was written by Laura Hartney. If you wish to use this content in any manner, you need written permission. Contact Malika Bowling for details.