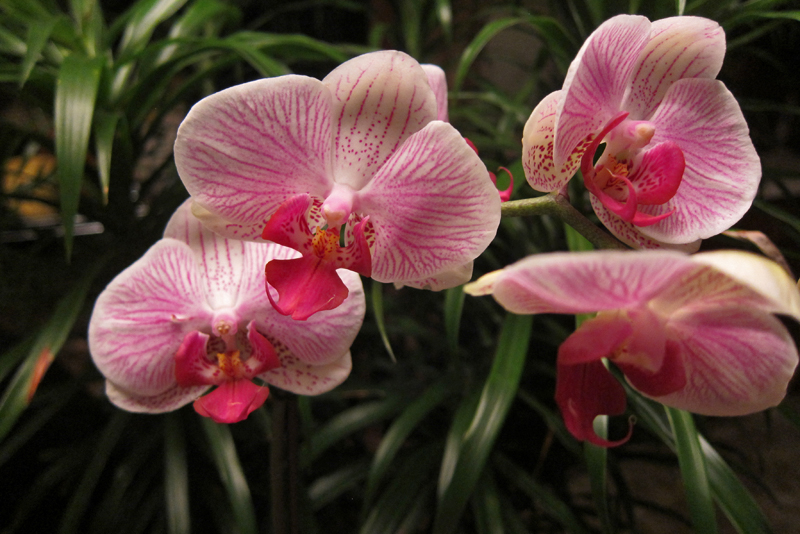 Have you wondered what the series of capital letters following the name of the plant you purchased mean? These letters are abbreviations for awards that a particular orchid has earned by being rated at an official American Orchid Society (AOS) judging. The Royal Horticultural Society (RHS) of Great Britain and the Japan Orchid Growers Association also award similar distinctions to orchid plants. One of the more prestigious awards is from the Japanese Grand Prix International Orchid Festival which awards JPGxxxx designations (xxxx being the year of the award). When you purchase a plant with one of these awards, you are purchasing a clone of the original plant that received the award. You will know exactly what the flower is supposed to look like.

There is a published standard for each type of orchid and plants are awarded points depending on how well it measures up to that standard. The first type of award from the American Orchid Society (AOS) is granted to the flower for quality of that particular type of species or hybrid.

Awards for Flower Quality
The HCC or Highly Commended Certificate award requires a point score of 70-79 points out of a possible 100 points for perfection.

The AM or Award of Merit award requires a point score of 80-89 points out of the possible 100 points.

The FCC or First Class Certificate award requires a point score of 90-100 points out of the possible 100 points.


Awards for Growing Excellence
The second type of award goes to the orchid grower for excellence in cultivation.
The CCM or Certificate of Cultural Merit goes to the orchid grower and requires that the orchid score at least 80 points after being judged on the Certificate of Cultural Merit scale.

The CBR or Certificate of Botanical Recognition can be awarded to a species orchid that is rare and unusual and has educational interest. This award is necessary the first time a specific species is judged by the AOS and provides the basis for future judging.

The JC or Judges' Commendation is given to a plant that the judges feel deserves a special mention, but that does not fit into the standard judging categories.




Editor's Picks Articles
Top Ten Articles
Previous Features
Site Map





Content copyright © 2023 by Susan Taylor. All rights reserved.
This content was written by Susan Taylor. If you wish to use this content in any manner, you need written permission. Contact Anu Dharmani for details.