Leo Vonn - Gentleman Tatter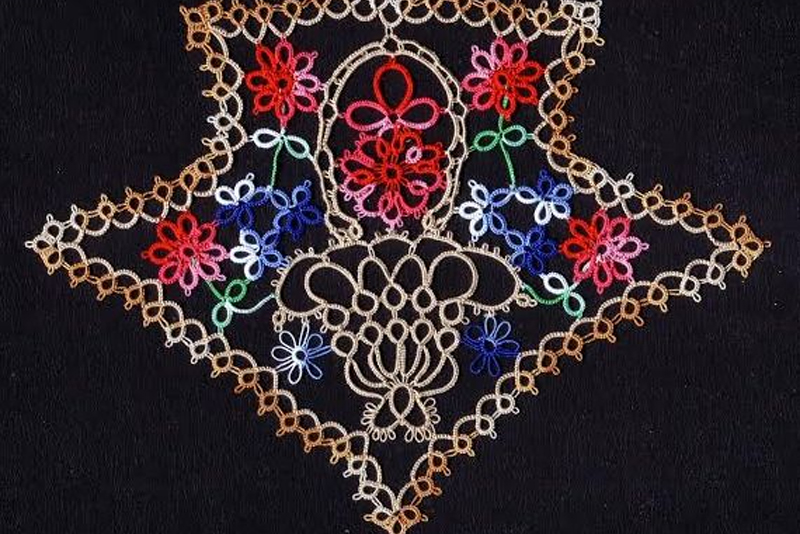 Men in Tatting



Leo Vonn was a gentleman tatter from Cleveland. His publisher's biographical information contained a surprising story of how Leo learned to tat. Born in PA, as a young man he worked in the coal mines. Evenings left him without occupation. His sisters taught him to tat and gave him a gift of pleasure that he enjoyed for decades afterwards.



His work apparently garnered many awards but I was unable to document any. Such things are ephemeral at best. But, of course, his best legacy will have been the many young people who studied tatting with him. He also published a book on tatting in 1967 (hb) and there was a reissue in 1977 (pb?)







This is a small book. 8.5" x 5.5" with 69 pages. Except for the cover, the photos are all black and white. (The cover itself is charming. It shows Mr. Vonn in his senior years seated and surrounded by 5 young girls all with shuttles poised in the air. From the position of his fingers he must be indicating the next movement in tatting.)


The photos do start with a layout detailing the basic tatting movements. It is sad though that the hands were photographed at such a distance as to make actually "seeing" the stitch, or picot or join nearly impossible. For that reason this book is not suitable for a beginner to use for learning the basics.


There are more than 50 patterns which are traditional in design and would grace any home today. There are 44 edgings or edging combinations. The 6 individual medallions can be combined in many ways. There is one very large round doily and 5 small to medium size doilies or sets. His huge table cloth begins with 320 medallions! The bedspread is displayed on a double bed but includes directions for altering the size. I only wish that a photo had been included for the 50 star flag pattern.


[Note: This book is from my personal tatting reference library. G. Seitz]
You Should Also Read:
Ben Fikkert
Mark Myers


Related Articles
Editor's Picks Articles
Top Ten Articles
Previous Features
Site Map





Content copyright © 2019 by Georgia Seitz. All rights reserved.
This content was written by Georgia Seitz. If you wish to use this content in any manner, you need written permission. Contact Georgia Seitz for details.