Aselin Debison - The Beginning
Aselin Debsion is an amazing example of Canada's talent. She began singing at a very young age and has travelled the world entertaining young and old alike. Her charm and amazing talent make it practically impossible not to love her.
Lucky for us Aselin has taken some time out of her busy schedule to talk to us about her eafrly career in music.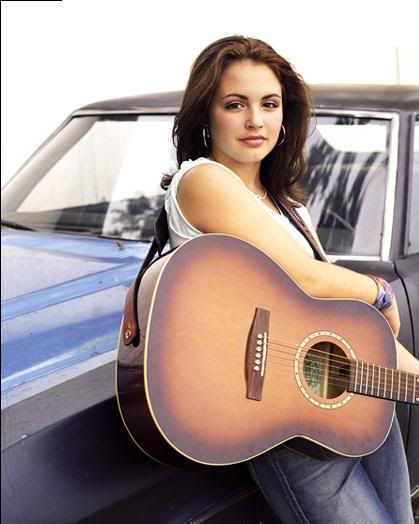 Aselin you started singing at a very young age. How old were you when you sang in front of your first audience?
--I would have sung in front of my first audience when I was 3 years old.
Where was it?
--I went to an Irish pre-school, and we did St. Patrick's Day concerts annually. The concert would have been held somewhere in Sydney, where the school was located.
Many artists describe their first performance as being the moment they realized what they wanted to do for the rest of their lives. Was it like this for you?
--Definitely- singing is all I've ever wanted to do.
What was it like to have such a big spotlight on you while growing up?
-–My family and friends kept me down to earth. Plus having a little brother to bug you like every other little sibling would didn't hurt either. When I wasn't on the road, I was like every other kid. I played sports, went to the mall and the movies, swam in the summer. All that fun stuff.
Over the years you have performed with many well-known artists, who has been your favourite to perform with?
--To be honest? I'm not quite sure. I've had so many great opportunities to meet and play with many artists. I think for me, the best times are performing along side other locals who have made it big. I love getting to play with Bruce Guthro, The Rankin's, Gordie Sampson, and the whole crew. Cape Breton's like a big musical family.
Do you come from a musical background?
--My grandmother was a singer when she was my age. She was well know[n] and sang on television often. She had a 1952' Jumbo Gibson. My aunt Charlene learned to play it as a kid, and my mom and dad both sing. My brother doesn't have a bad voice either. But he's pretty shy of showing it.
You toured for your previous albums, what was it like to see the world so young?
--It was unbelievable. I think I learned more history of other places and cultures on my trips than I did in school sometimes.
You are a small town girl, what was it like for you to sing for someone like the Queen?
--Nerve wrecking, and I never get nervous. I think it had a lot to do with the fact that I was wearing heels, which I hardly ever wear when I'm performing. But it was also a huge opportunity that I'll probably never get again. All those things, plus the fact that it wasn't only the Queen, but her husband and other royal figures that were there. Although, I think the best part was Price Phillip asking me if I was playing anywhere else during their stay.
Do you remember seeing your video on television for the first time what was it like for you?
--My friends saw it on TV before I did, because I don't really watch TV a lot. I was really excited when I saw the VJ's announcing the new video and all that stuff. It even made a top 10 list or so I'm told, I just don't know which one!
Did you have fun making it? -It was awesome! I loved making the video for "Life", except when one of the hands on set tried to fit my guitar in a locker and banged it up. It was a long day, but a fun day. I've never seen a school so big!
One thing you notice with young stars today is that they become very caught up in the fame. You see them throwing fits and acting like spoiled brats. You on the other hand have always seemed very down to earth, fame has not gotten to you. Even when people such as the former Prime Minister have gone as far as calling you the next Celine Dion, you have still managed to maintain your Cape Breton charm. What has kept you so grounded throughout the years?
--My family and friends have always kept me grounded. My family has always treated me like an average person. It was like being Aselin at home, and Aselin Debison on stage. I still played basketball, and was on the track team until graduation last summer. I think a lot of things, especially being from Cape Breton, and a small town has helped make me who I am today.
------------------
Aselin's interview was actually so long I had to split it into three parts. Be sure to check out the other two interviews which cover her music and her upcoming album as well as her recent engagment! (Both interviews are listed below in related links)
Aselin's music is great for all ages and makes for an amazing Christmas present. Get some of your Christmas shopping done right now by picking up a copy of her Christmas Album titled
Littlest Angel
, or even buy
Bigger Than Me
and
Sweet Is the Melody (Canadian Version)
as an early Christmas present for yourself!
This site needs an editor - click to learn more!

You Should Also Read:
Aselin Debison - The Music
Aselin Debison - Growing Up
Canadian Christmas Music




Related Articles
Editor's Picks Articles
Top Ten Articles
Previous Features
Site Map





Content copyright © 2018 by Cavelle Natasha Layes. All rights reserved.
This content was written by Cavelle Natasha Layes. If you wish to use this content in any manner, you need written permission. Contact BellaOnline Administration for details.