Selection of Japanese Tatting Books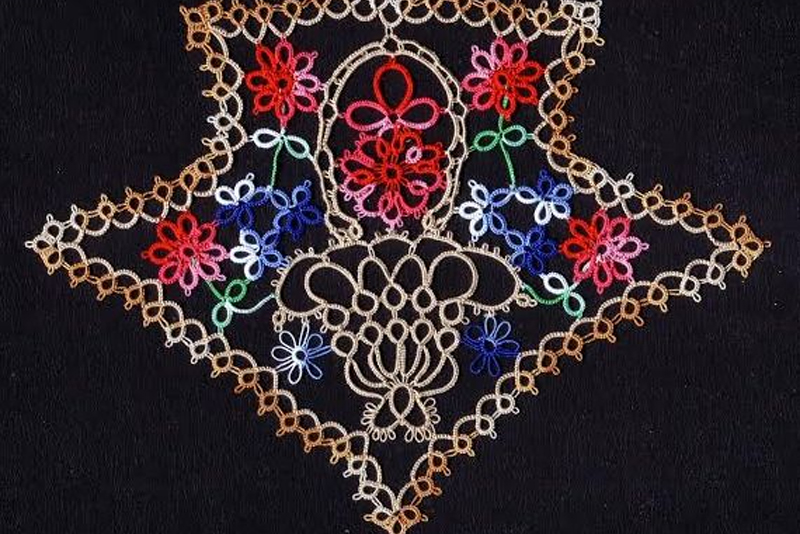 Excellent tatting pattern books from Japan.
Do It Yourself series #13 (Nihon Vogue 1978; see also "Tatted Fashion") Teiko Fujito (Japanese, English)
Nihon Vogue's "Do It Yourself" series #13, 1978 (see "Tatted Fashion" English version) Teiko Fujito (Japanese)
Please be aware that Mrs. Teiko Fujito's "Tatted Fashion" book is a reprint of the Japanese language version published by Nihon Vogue in their "Do It Yourself" series #13 in 1978. Long out of print, second hand copies have been a treasured prize. The English language version offers instructions in photos and illustrations. Every movement of the thread is documented. 28 of the 104 pages are in full color.

There are written instructions as well as wonderfully clear, numbered diagrams which accompany each pattern. This soft cover large format book (8.5" x 10" or 21 x 25 cm) has traditional style doilies and motifs, and features fashion accessories, shawls, purses, and unbelievably large projects for home decor too!

Tatting: 101 Motifs and Edgings Teiko Fujito .
Tatting Lace Teiko Fujito ( Japanese) Japan, 1995, p. back, 68pp

Ondori's Tatting Lace Ondori Pubs (Japanese)

Tatting & Bead Tatting 1 Mitsuko Ikuta (Japanese)
Tatting & Bead Tatting 2 Mitsuko Ikuta (Japanese)
Tatting and Beads Book 3 Mitsuko Ikuta (Japanese)

Tatting Lace Sumi Fujishige (doily on cover)
Tatting Lace Sumi Fujishige (flowers on cover)
Tatting Lace Lesson Book Sumi Fujishige (4 small tatted pieces on cover)

Tatting Lace Tomoko Morimoto

Tatting Lace, Hisayo Sugita

Tatting Lace: A New Approach to Tatting Yusai Shokoin (Japanese)
Tatting Ideas Yusai Shokoin

Tatting Lace Accessories Peiko
Small Tatted Accessories Peiko

Tatting Sumie
Tatting 2 Sumie
Tatting 2014 Sumie (Beaded tatting)

Crochet and Tatting Kukka

Japanese Style Hook Tatting by Toshiko Takashima, born at Osaka, Japan. A talented designer she learned tatting, knitting from sisters at childhood and later learned Ribbon embroidery from Shizue Sanda, French embroidery from Leonie Miura, Knitting from Yasuko Uga and Continuity lace from Kazuko Yamashita.

1974 Published the book "Takashima Tatting".
1976 Performed tatting on NHK( Japan broadcast) TV program FujinHyakka at Feb
Held Work Exhibition at Mitsukoshi Department store.
1978 Received a patent for hook tatting tool called Takashimabari and also
patent received for Hook tatting method of chain by using Takashimabari.
1980 Published the book "Hook Tatting" from Vogue Nippon.
1986 Held the Work Exhibition at Junkudo at Paris.
1998 Attended at Ring of Tatters tatting day at England and introduced Takashima tatting.
2008 Joined Horstmar International Tatting Exhibition in Germany.
Since 1988 holds the work exhibition at Ashiya city every each year.
Every year she joins the hobby show at Tokyo, Osaka, Nagoya.
Member of Ring of Tatters, Japan Tatting Association.



Related Articles
Editor's Picks Articles
Top Ten Articles
Previous Features
Site Map





Content copyright © 2019 by Georgia Seitz. All rights reserved.
This content was written by Georgia Seitz. If you wish to use this content in any manner, you need written permission. Contact Georgia Seitz for details.