How to Reuse and Recycle Yarn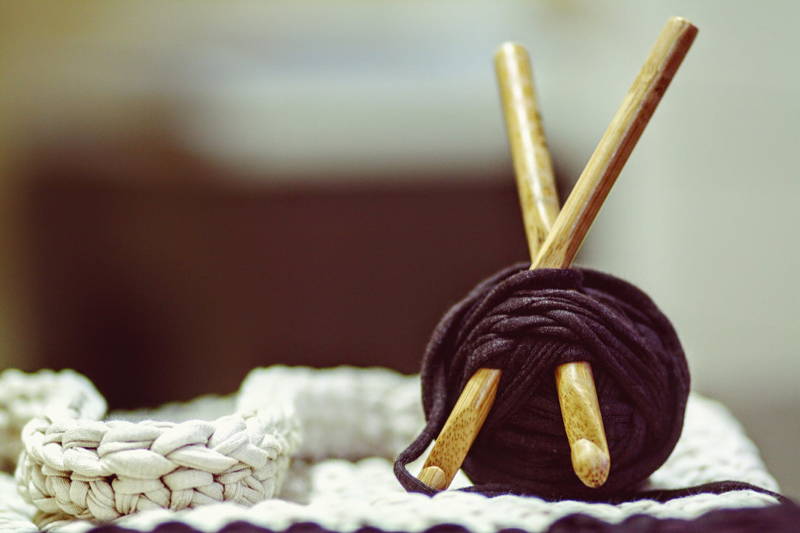 Believe it or not, unraveling a knit or crochet item and reusing the yarn is an old and common practice. Women did it frequently during the Great Depression when people couldn't afford to buy new yarns and textiles. Also, before the industrial revolution, there was no mass production of yarn. Spinners tediously hand-spun yarn; it was a highly valued commodity. Everyone needed yarn for weaving and knitting everything from socks to bedspreads. Being wasteful was not an option. These days, yarn reuse and recycling is a popular, frugal, environmental friendly endeavor.

Find Reusable Yarn
The first place to look for reusable yarn is your own stash. How many unfinished projects do you have lying around that you've lost interest in and know you'll never finish? These projects are perfect for unraveling (also called frogging).

The next place to look is your closet. Do you have any old knit or crochet sweaters or shawls you don't wear anymore? It's easier to salvage yarn from items that have hand-sewn seams or woven in ends in place of machine finished edges. The reason is simple. A hand-finished item has yarn that is continuous and unbroken from one row to the next. A machine sewn unravels into short spans of yarn because the sewing machine clips and cuts the seams. You'll also want to keep in mind color, fiber content, yarn weight, and how much yarn you can get out of it. You might not salvage much from a baby sweater.

Other places to find hand knit and crochet items for recycle are thrift and second hand stores, yard sales, auctions, and curb alerts on classified ad sites.

Unravel, Deconstruct, Wind it Up
Remove the sleeves from the body of the sweater first by using a seam ripper. Snip shoulder seams and the seam that runs the length of the arm. On the body of the sweater, snip along the side seam. When you begin to unravel the yarns, it will look loopy and crinkly. That's OK. Just wind it into a firm, but not tight, ball as you unravel it. It helps take some of the kink out as well as keeping it from getting tangled.

Once you're finished unraveling the item and winding the yarn into balls, you'll need to wind it into a skeins. You can use the back of a chair, a companion's hands, a niddy noddy, or a skein winder. Once the yarn is wound, tie the ends so that the yarn won't tangle. It's a good idea to use a different color of scrap yarn or crochet cotton so you can see where you've tied it later.

Hand Wash, Soak, Dry
If you think the yarn needs washing, treat it like a delicate sweater. Use a mild soap and squeeze the yarn, don't agitate it the rinse with cool clear water and soak the skein in the tub of clean water for about 20 minutes.

Remove the skeins from the water and gently squeeze out the water. You can roll it in a towel and squeeze and pat the water out. Don't put it in the dryer. Not only will it tangle, you might end up felting it if it's made of wool.

Next, hang the yarn skein to dry. You can use a plastic hanger, draped over the back of a chair, etc. Keep the yarn out of direct sunlight. You should see the yarn straighten out from the weight of the water. If it's not straight enough, you can hang light weights, such as close pins, from the skein to help with the straightening. Allow the yarn to thoroughly dry and then it's ready to use.

If you have questions feel free to send an email or post them in the forum using the links provided in the right hand column. Also fell free to share any great tips you have about reusing yarn that aren't mentioned here.





Related Articles
Editor's Picks Articles
Top Ten Articles
Previous Features
Site Map





Content copyright © 2023 by Melissa Rodriguez. All rights reserved.
This content was written by Melissa Rodriguez. If you wish to use this content in any manner, you need written permission. Contact Holly Messenger Aamot for details.