This dress will fit 15 to 18 inch cloth dolls such as
Raggedy Ann
and
Madeline
. The dress is shown on my 15 inch Annie doll and the skirt goes to her feet. On an 18 inch doll it would be shorter but would work well. Annie's body measurement is 10 inches around at chest and waist and it is slightly full on her so it will fit on larger cloth dolls.
For a pattern to make Annie
15 Inch Annie Doll Pattern
.
For sewing instructions to make Annie
Sewing Instructions For 15 Inch Annie Doll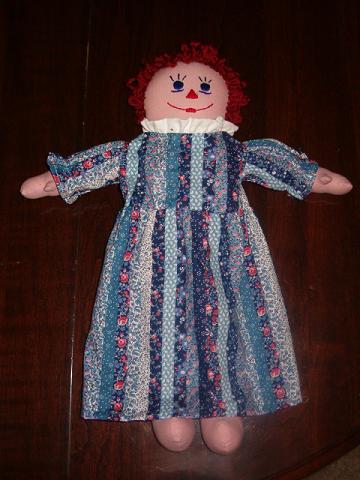 Materials Needed
3/4 yard cotton calico fabric.
a piece of eyelet 2 inches wide and 20 inches long for the collar.
Matching thread
one hook and eye or one set of hook and loop dots, for closing.
2 pieces of 1/4 inch elastic each 2 inches long to gather the sleeve bottoms.
The fabric I chose is a small print but looks like patchwork. This lends itself perfectly to a rag doll. I suggest keeping the pattern small and if you can find a print that looks like patchwork, so much the better.
For the skirt cut a rectangle of fabric 20 inches wide by 9 1/4 inches long.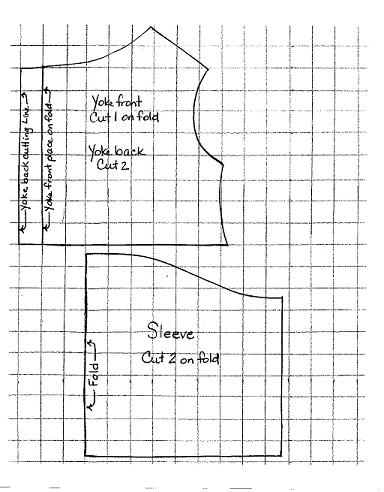 This dress was made with a contrasting white eyelet collar. For instructions on making the collar see
Putting Stand Up Collars on Doll Dresses
.
This pattern is my own design and is free for your personal use. It may not be reproduced commercially.All pattern pieces include a 1/4 inch seam allowance and are shown on a 1/2 inch grid. To copy the pattern by hand you can create a 1/2 inch grid by measuring every half inch and making a pencil dot all the way down and across, on both sides of a piece of 8 1/2 by 11 inch paper. Then use your ruler or straight edge to connect the dots with your pencil. Then draw the pattern lines into each square of your grid, exactly as they are shown in my design.
For instructions to make a dress for American Girl type dolls and larger 18 inch dolls see
Dresses to Fit 18 to 22 Inch Dolls
.
Making and Dressing Cloth Dolls
Ebook with patterns and instructions to make 5 cloth dolls as well as chapters on general doll making techniques.The book includes 21 inch Lalena Doll, 21 inch David Doll, Bear Dolls, 9 inch Destiny Doll and 15 inch Annie Doll, all together in one handy book. 53 pages.
Making and Dressing Cloth Dolls
.