Book Review--Easy Orchids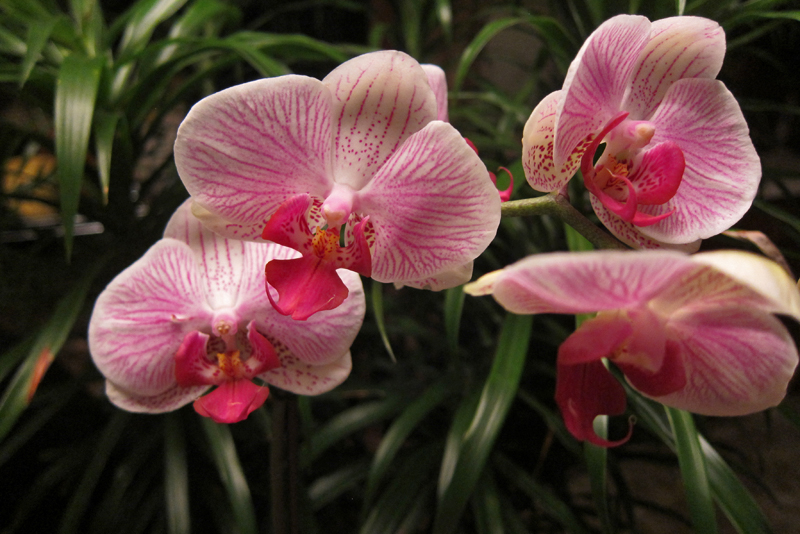 One of the first books I purchased when bitten by the orchid bug was a wonderful little book by Mimi Luebbermann entitled
Easy Orchids
. This is truly a book for beginning orchid hobbyists. It covers a variety of growing conditions and locations. There are recommendations given for specific plants that can be grown in low-light conditions, well-lit windowsills and in outdoor locations. The humorous introduction includes a familiar scenario to many orchid lovers. "What begins as a casual couple of orchids to perk up a dreary winter soon results in a collection flowing from the kitchen to the bedrooms, to the basement turned into an orchid habitat with timed lights, and to the sun-room remodeled as an expanded greenhouse".
A brief history of orchid collecting is included in the introduction.. The author goes on to detail her start in the world of orchids. There is excellent advice in this section about choosing your first orchid and making certain that it can thrive in the growing conditions you have available. The book does not contain a lot of technical terminology that might intimidate a beginner.
The next two chapters contain general characteristics of orchids. Specific information is given about water, humidity, temperature, potting mixes, fertilizers, repotting and other basic growing skills.
The remaining chapters get to the heart of the matter. "Orchids to Grow on a Windowsill" include Brassavola nodosa, Cattleya skinneri, Laeliocattleya, Oncidium, Phalaenopsis and Paphiopedilum. One of the nicest features throughout the book is the use of full-page color photos of each plant.
One of my favorite chapters is "Orchids to Grown in Outdoor Containers". These plants really should be grown outdoors most of the year. The fresh air, sunlight and temperature changes are important if your plants are to flower year after year. Included in this section are Cymbidiums, Epidendrum ibaguense, Dendrobium kingianum and Zygopetalums.The next chapter covers terrestrial orchids, which grow in the ground. There are two such plants profiled-Bletilla striata and Pleione formosana.
The final section is entitled "Exotic Orchids" and includes Cattleya, Dendrobium nobile, Masdevallia, Miltoniopsis, Vanda and Vanilla planifolia. These orchids, especially, require a careful analysis of your growing conditions to be sure that they will do well and give you lots of bloom.
I think that any orchid grower can learn a lot from this book and it would be a welcome addition to your basic library.
Buy This Book at Amazon.com
You Should Also Read:
More Book Reviews


Editor's Picks Articles
Top Ten Articles
Previous Features
Site Map





Content copyright © 2023 by Susan Taylor. All rights reserved.
This content was written by Susan Taylor. If you wish to use this content in any manner, you need written permission. Contact Anu Dharmani for details.