Buddha's Birth, Childhood, and Renunciation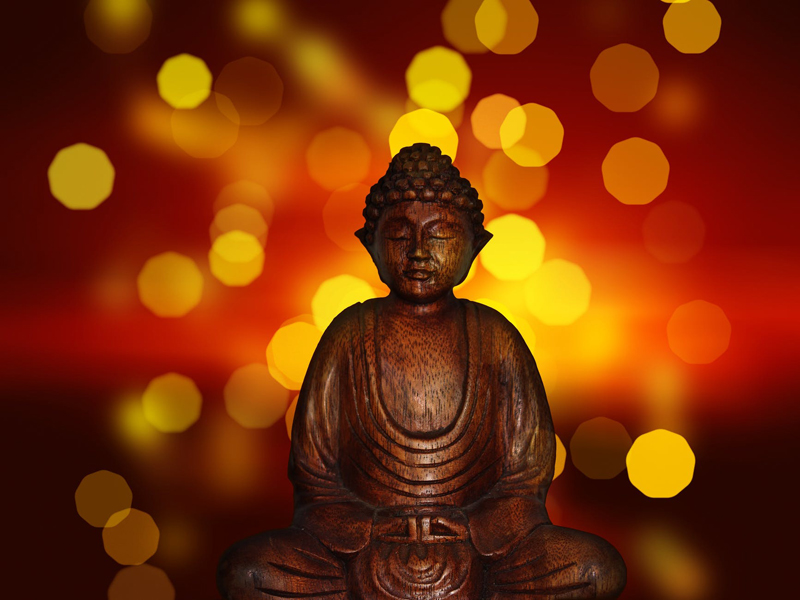 The word 'Buddha' means 'aware' or 'awake', and is used to denote anyone who has awakened to the truth of existence as the first Buddha did. This Buddha is Siddhartha Gautama, the historical founder of Buddhism. His life story is central to the teachings in most
schools of Buddhism
, and is referenced throughout
Buddhist scripture
.
Although historians can not validate many of the details of his life, most agree that he lived around 500 B.C. in what was then northern India. Versions of his life story vary slightly, but the basic outline always contains seven stages: his
birth, maturity, renunciation, spiritual quest, awakening, teaching, and death
. Each stage illuminates different aspects of Buddhist teachings. I have broken this telling into two articles, with this first one covering the first three stages, and
the second article
covering the final four.
Birth
The Buddha was born to King Suddhodana of the Shakya clan, and his wife Queen Maya. Their family name was Gautama. Upon his conception, Queen Maya dreamed of a white elephant with six white tusks entering her, a highly auspicious and powerful sign. As was tradition, when the birth neared, she traveled to her own homeland to give birth. However, she didn't make it, giving birth instead on the way, under a tree. She died soon after, and the baby - named Siddhartha, which means 'he who achieves his aim' - was raised by
her sister Pajapati
, who the king married.
Soon after Siddhartha's birth, a famous seer came to visit the king and proclaim the destiny of the young prince. To the king's dismay, he declared that Siddhartha's future as a king was not assured, saying instead that Siddhartha would either become a great king OR a great spiritual leader and teacher. The King consulted other seers, hoping to hear another prediction, but they all confirmed the original one.
Maturity
Prince Siddhartha was an avid pupil and sportsmen, excelling at anything he tried his hand at. In an effort to assure that his son's spiritual proclivities were never awakened, the King insulated Siddhartha from all pain and suffering. He was surrounded by wealth and pleasure, his every wish granted, and all signs of illness, aging, and mortality were hidden from him.
At the age of 16, his father arranged his marriage to Princess Yasodhara, of a neighboring kingdom. Together they had a son, Rahula, and lived happily together within the palace walls, although Siddhartha often felt that there was something missing in his life.
Renunciation
Prince Siddhartha grew increasingly restless with palace life. At times, he requested to see life outside the palace walls, and his father worked to assure that he never saw anything painful when he did so. One day however, Prince Siddhartha caught site from his chariot of an old man. He had never seen someone stooped or wrinkled before, so he asked his charioteer and friend Channa about it. Channa told him that everyone, including the King and Siddhartha himself, would eventually age.
This made a deep impression on Siddhartha, and he began to seek out more sights outside the palace wall. He eventually encountered illness, death, and a ascetic practitioner, all of which reinforced his growing discontent. He felt that the pleasures of palace life were meaningless in the face of their ultimate transience, and death itself.
Eventually, at the age of 29, Siddhartha vowed to leave the palace, and become a spiritual ascetic himself. He vowed not to return until he knew how to end human suffering. According to legend, magical events (which vary in different accounts) transpired to aid Siddhartha's flight from the kingdom. He cut off his hair, renounced his clothing and possessions, and began his life as a renunciate.
-------------------------------
These first three phases of the Buddha's life story represent the questioning of conditioned existence that is at the heart of Buddhist practice. And as the seer in the legend makes clear, Siddhartha, like each of us, had the choice of pursuing a purely worldly existence, or seeking answers to his questions. Ultimately, his quest was not only for himself, as his own life was happy and pleasurable. He sought the end of suffering for both himself and all of humanity. In order to seek this, he had to break, to some extent, from his past conditioning, and in his case even his physical home, for a time.
Be sure to read
the rest of the story
. And for more details, here are my two favorite versions of the Buddha's life story, for adults and kids, respectively:
Or, if you prefer e-books, note that this article is included in my e-book
Introduction to Buddhism and Buddhist Meditation.


Related Articles
Editor's Picks Articles
Top Ten Articles
Previous Features
Site Map



Follow @mommymystic
Tweet



Content copyright © 2022 by Lisa Erickson. All rights reserved.
This content was written by Lisa Erickson. If you wish to use this content in any manner, you need written permission. Contact Lisa Erickson for details.