Tips for Crochet Designers from Mary Jane Hall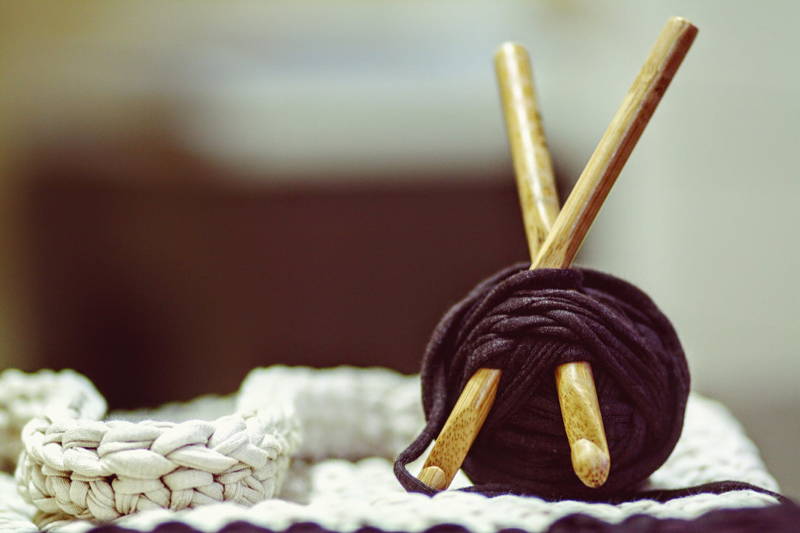 In an interview spread over a number of articles, Mary Jane Hall, crochet designer and author of Positively Crochet, talks to us about the design process, shares tips for aspiring designers and gives us an interesting insight into the world of crochet designing.
KP: What makes a good crochet design?
MJH:
Oh, this is a great question and I love answering it. A good crochet design is not a garment that uses cheap, stiff acrylic yarn that makes your design stand up on it's on or one that feels like a straight jacket when worn! Crochet got a bad reputation back in the 60's and 70's because of this very thing. My favorite yarns are cottons, wool, silk, or anything that is natural, but there are some very nice (and soft) acrylics today, that I like. The yarn industry has changed tremendously since those days. A good crochet garment is also not one that is made with ugly colors that don't match. There were some pretty ugly colors put together back then. Now I love color, as you will see in my books, but there's a fine line between gaudy and tasteful colors.
I do have a background and experience in color analysis, so this really helps me. I've learned though, that I needed to expand my horizons so to speak where some colors are concerned. I've never been crazy about really dull, muted colors, or orange, but I've learned to appreciate those colors being appealing when they are used in the correct color scheme. Now to the real answer, in my opinion, here's what makes a good crochet design. Using smaller yarns and larger hooks than what most crocheters have been accustomed to. I almost never use the recommended hook size that is listed on a label. For example, most labels on a worsted wt yarn say to use a G or H hook, and that's fine if you are trying to make something sturdy, such as a purse or maybe even an afghan. But when making garments I never use a hook that small. It just won't be soft and drapeable. But it also depends on the yarn and the content.
Another example is that I like to use a larger size H, I or J hook even with a fingering or sport weight yarn. This makes the garment very soft and drapeable. I have not knitted in years, but I know that it is softer and less dense than crochet, because only 1 stitch is picked up at a time. That's why many of my designs have stitch patterns that go in one loop only, making it softer and more stretchable, therefore more flattering and drapeable.
KP: What tips would you have for aspiring designers?
MJH:
I'd say that if you really want to design, the best advice I could give you would be to first have your friends or family try to follow one of your patterns, and see if they can understand it. If they do, that's great, but even if they do, that doesn't mean your pattern writing skills are up to par. You need to look at publisher's guidelines and study how they word their patterns. Every publisher does things a little differently, so you just have to adapt to their way, when you work with them. And the main thing is that if you have the desire to design, whatever happens, just don't give up!!!!!!!
The first thing you need to do is actually take the first step in submitting a design. You'll never know until you try. Others may give up on you but never give up on yourself. Pursue your dreams. You will never regret having tried.
KP: You have been crocheting for quite a few years!
MJH:
How important is being a good crocheter to creating good crochet designs? Oh, it's extremely important. If a person is sloppy with things such as weaving in ends, not counting or paying attention to row, not swatching and getting the correct gauge, all these things can really throw off a garment. And if a person who wants to design someday doesn't practice up and learn the standard terms, a publisher would look at their pattern, and just laugh at it. I'm pretty sure that even though I thought my first written patterns were good, the tech editor probably laughed and was frustrated with my pattern writing. I learned in a hurry though, because I was serious about designing. A person can be a good designer, but not a good pattern writer. I am so thankful that the people at
Kooler Designs
were patient with me on my first 2
booklets
(published by Leisure Arts).
KP: Is it possible to earn a living from crochet design?
MJH:
That question has been discussed over and over again in many crochet groups that I belong to. Everyone wants to quit their day job to have a full time career in crochet designing. Although it's possible for some people to earn a living from designing, most use it as a second income. The ones who make a living at it also travel around the country speaking at the many conferences and workshops on crochet, knitting and other needlework. As designers, we all believe that we are underpaid for our work, so if we were paid what we're worth, I do believe many more would be designing for a living.


Related Articles
Editor's Picks Articles
Top Ten Articles
Previous Features
Site Map





Content copyright © 2022 by Kate Pullen. All rights reserved.
This content was written by Kate Pullen. If you wish to use this content in any manner, you need written permission. Contact Holly Messenger Aamot for details.