Which half stitch comes first?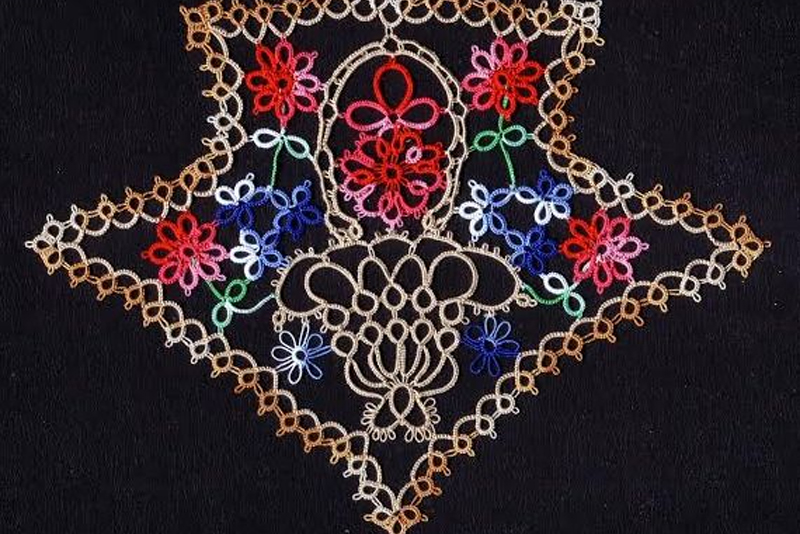 A BellaOnline tatting newsletter (June 19, 2012) on gentleman tatter, Jan's Stawasz from Poland discussed "Jan's method." This brought to mind an oft discussed subject. What is meant by the first and second half stitch? These stitches were known earlier as the plain or the purl stitch, or the French stitch and the English stitch. In the Mlle Riego (Please see: https://www.bellaonline.com/articles/art70461.asp)patterns, her designations for the stitches were:


| | | |
| --- | --- | --- |
| reverse stitch = French stitch = first half stitch | single stitch = English stitch = second half stitch | Illustrations courtesy of Mark Myers, aka Tatman. |
It should be noted that Mlle Riego began her patterns with what we call the second half stitch today and the antique patterns do show this difference if examined closely. The Riego books are posted online for free download at https://www.bellaonline.com/content/link_list.asp?id=3137. And Mlle Riego, her tatting tools and method of working are mentioned in the article Civil War Tatting (https://www.bellaonline.com/content/link_list.asp?id=3138)by Virginia Mescher.


In that article Virgina Mescher writes: "Mlle. Riego's method for tatting was very similar to our modern tatting, but at first she reversed her "stitches" or knots. Instead of making her double stitch as we do, she made our second stitch, (called the "French stitch") first and our first stitch (called the English stitch) second, so that her knots, on the front, looked like our knots do on the back. Picots (sometimes called loops or pearl loops) were made between the first and second stitches of a double stitch, instead of between two double stitches, as we do today. Most other period tatting instructions have the reader make the English stitch first and the French stitch second, just as we do today."


Ms. Mescher's research indicates that Mlle Riego began tatting 2nd half stitch/1st half stitch and then later changed to 1st half stitch/2nd half stitch. See the Riego tatting instructions from "The Tatting Book" 1850 pg 6 and 7 (https://www.bellaonline.com/content/link_list.asp?id=3137).

Whichever method you use to tat just remember to keep your picots in the upright position. :)

You Should Also Read:
Jan Stawasz
Mlle. Riego books


Related Articles
Editor's Picks Articles
Top Ten Articles
Previous Features
Site Map





Content copyright © 2022 by Georgia Seitz. All rights reserved.
This content was written by Georgia Seitz. If you wish to use this content in any manner, you need written permission. Contact Georgia Seitz for details.