Interview with Julie Christmas of Made out of Babies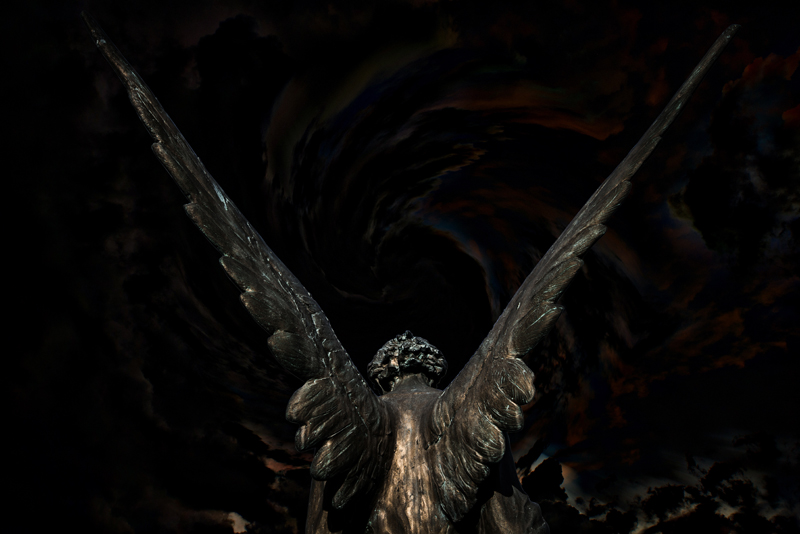 If you're looking for something above and beyond the usual screamo, thrash-o, blah-o, do I have the antidote for you. Made out of Babies is a band from Brooklyn that released their debut Trophy last year. Abrasive, violent and suitably psychotic, the music is punctuated by the electrifying vocals of Julie Christmas. From little girl voices to full-on demon-from-hell screams, if you need to stay awake on a long drive, listen to this record. Of course, you may never sleep again after listening to the newest record Coward as well as the debut from the other band Julie fronts, Battle of Mice. Coward is several steps beyond the debut taking the stark framework that fits the band so well, and turning it up a notch with even better songs.

Battle of Mice is a complete nightmare of a record and I mean that in a good way. Play this one at night for the best effect. Songs about pushing people down stairs; dogs chained in caves, and 911 emergency calls complete with banshee screaming, all make up this awesome disc. Completely and utterly hooked on these bands, I had to find out more about them. I talked to Julie recently and here's a bit of what she had to say.

Morley Seaver: Tell us about both your bands. Who's in them and how did they come about?

Julie Christmas: In Made out of Babies, me and Brendan (guitarist) were a couple for 5 years (the longest five years in history). We broke up, didn't speak for a year, and then I called him to get together and play some songs at my sister's birthday party a week later. I was playing with Matt (drummer) and his sister was playing bass. We practiced 4 times wrote 3 songs and learned a Butthole Surfers cover and played the party. It was fun and we just kept going. A year later we replaced Viva (the bass player) with Cooper. We then wrote more than half the album in about 3 weeks and recorded it. The new made out of Babies album, Coward, is coming out in September on Neurot and was recorded by Steve Albini.

Battle of Mice is a project with guitarist/keyboardist Josh Graham. We met in Austin, Texas, when our respective bands—Made Out Of Babies and Red Sparowes—played the South By Southwest Music Festival in 2005. We hated each other immediately. When our two bands went on a West Coast tour together later that year, our attitudes toward one another changed. A long-distance relationship ensued, the furious and occasionally harrowing nature of which is reflected in the music of Battle of Mice. The sonic philosophy of the band reflects a huge, primal range of emotion: Love, lust, jealousy, whiskey, and blind rage. Tony Maimone (Pere Ubu) plays bass on several tracks. Joel Hamilton (Book of Knots, Players Club, Glazed Baby) plays drums and is producing the album – he has a great deal to do with how happy I am with the album, which comes out in October on Neurot.

Morley Seaver: What is "At the Base of the Giant's Throat" about and how many takes were involved to get the perfect scream on the 911 call?

Julie Christmas: I am actually not allowed to talk about that. I know it sounds crazy and overly-dramatic, but I'm serious. Please feel free to roll your eyes! I can only tell you that it just took one take.

Morley Seaver: Your music is very mood-inducing atmospheric. How do you approach getting into the mindset before a live show? Are you a pacer or do you just go out and sing?

Julie Christmas: When the band before us begins to break down at the end of their set, I go out and walk around the block and warm up. Sometimes I get strange looks from people on the street. A few times I have been mistaken for a hooker and men slow their cars down until they see my middle finger. Then I go back in, do a few shots and get on stage.

Morley Seaver: This may seem like a stupid question but how will you possibly be able to do a long tour with some of this material? Tracy Bonham blew her voice out during one tour, just from "Mother, Mother" alone. Your material goes about 4000% over that line and I can only imagine that you are even more impassioned on stage.

Julie Christmas: People keep asking me questions just like that! I can handle about thirty or thirty- five minutes a day of singing for about a month. I always warm up, and do shots and drink hot beverages to control pain and strain, but it gets tough. I have accepted the fact that at some point I will open my mouth and nothing will come out and it will just be over. I think the music starts and I just lose control- I think it helps to be so emotionally involved. It's also helpful that I have been singing forever. I've heard that if you start singing when you're really young, your body sort of naturally trains itself to sing properly. I guess that doesn't really apply to throat ripping screams, though, so we'll just have to see how it turns out.

For the whole interview with Julie, see the link below.
You Should Also Read:
Full interview with Julie Christmas
Made out of Babies website
Battle of Mice website


Related Articles
Editor's Picks Articles
Top Ten Articles
Previous Features
Site Map





Content copyright © 2022 by Morley Seaver. All rights reserved.
This content was written by Morley Seaver. If you wish to use this content in any manner, you need written permission. Contact Morley Seaver for details.