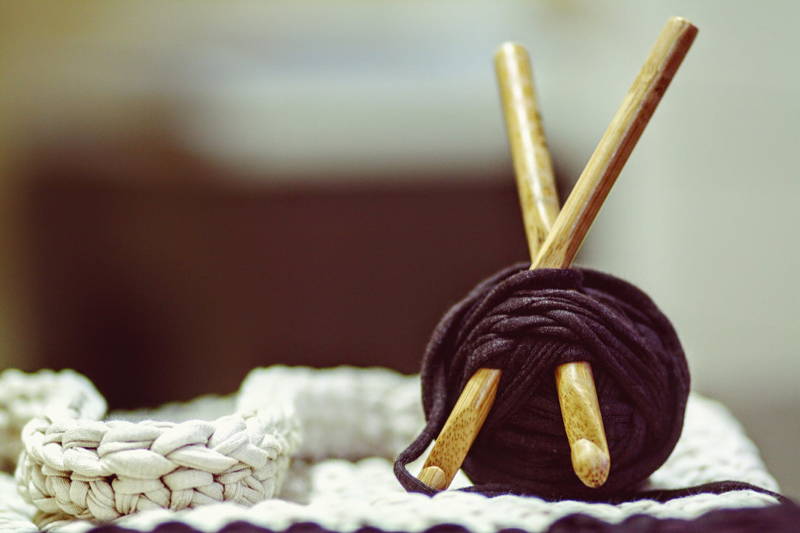 Often times communities get together to help out a particular cause. You might see an empty gumball container changed over to a charity to drop in monetary donations for a child who's been diagnosed with leukemia or for a family who's house was burned down and they have no insurance to recoup their losses.

In some communities the voluntary fire fighters will stand at a popular and busy street intersection with a rubber fireman's boot to take donations to help out a charity or even to help with something that's needed in their department but no funds are available for those items and they have no income, since they are volunteers, to help with the needed items.

Whatever charity works at your heart: you can help out with your hook and yarn/thread. This can be done single-handed or as a group. Some popular items to sell are mittens, hats and scarves. These can me made individually or sold as sets. Other items could include slippers, soft toys for babies, baby booties (almost any item for babies are big sellers), jewelry, puppy chew toys. For other possible items, think small and fast.

If you're working a personal charity, once you've sold your items, you can simply call the facility and ask where to send donations to. If you're wanting to help out at a local homeless shelter or an abused spouse facility, you might want to make the hats, scarves and mittens and simply hand these items out as you like. Keep in mind that you will want to either crochet a large supply or you might want to just hand these out on the street where the transients generally congregate, thus you can somewhat control any banter from those who want to receive a free gift, but you don't have enough to give to everybody. If they are insistent, you might ask their name and where you can meet them on a specific date and time to gift them a gift as well.

One way to help cut down on such situations is to walk up to someone and ask them if they have a home. If they tell you they don't, you might spend a little time talking with this person, so as to determine his/her needs. Then, you can discreetly offer them a hat, mittens or scarf.

Often crocheters with big hearts want to crochet them a small blanket to help keep them warm. This is such a wonderful and loving thing to consider. But, consider this! Once the weather changes and there is no longer a need for a blanket, these are left by the way-side or often discovered, washed and donated to a thrift store and sold for pennies on the dollar for the cost of the yarn that was put into it; not to mention the time spent working on it.

I'm not trying to discourage anybody not to endeavor into such a project. I just don't want anybody to be hurt if they happen to find that same blanket on a rack at the local thrift store with a price tag of $5.99. By all means, please do what your heart tells you to do. Either way, you'll be paying it back. And, you might even insert an index card with a note about "Paying it Back" and how they might consider Paying Back a favor or two to help someone in need.


Related Articles
Editor's Picks Articles
Top Ten Articles
Previous Features
Site Map





Content copyright © 2022 by Beverly Elrod. All rights reserved.
This content was written by Beverly Elrod. If you wish to use this content in any manner, you need written permission. Contact Holly Messenger Aamot for details.