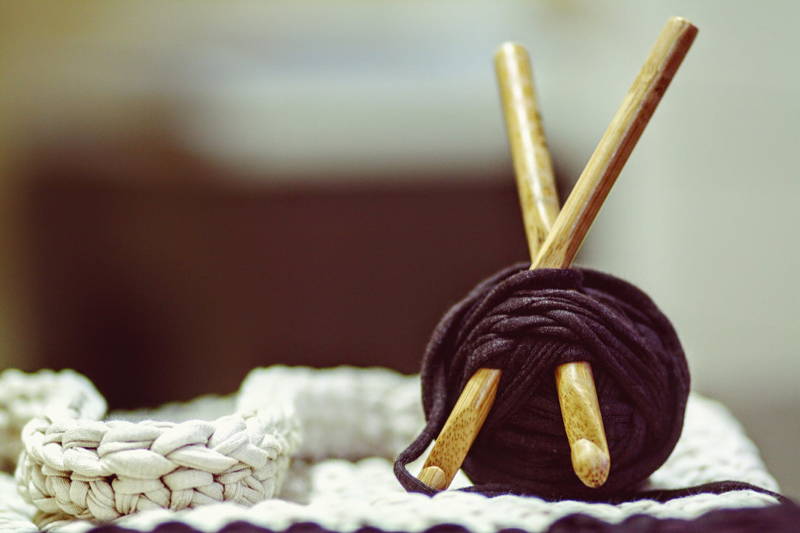 The crafting world seems to thrive on abbrev's (abbreviations). It's important to learn these abbrev's in order to complete the pattern/instructions that we find and fall in love with. It's also well known that crocheter's, amongst other crafters keep a stash of yarn for some of those patterns or just because they found a wonderful yarn and couldn't leave the store without purchasing some of it. For whatever reason, we find that not too long into our learning process, we also find that we've accumulated multiple WIPs (Works In Progress); also known as UFOs (Un-Finish Objects) This is most often because we get so much of the pattern done that we can visualize what it's going to look like, when it's finished, thus we move on to another project; thus, leaving our hooks in that project. Honest! I read this somewhere in a craft magazine. The writer of the article stated that it is because crafters have such a creative mind that this is how we work. So, now you have an excuse for your significant other, when they ask why there's yarn in the sock drawer.

I might be one of the worst crocheters for doing this. Then, I end up needing that same size of crochet hook somewhere down the road and have no clue which box, closet or drawer that I've left that hook into and have to purchase another hook. But, you'd be amazed at some of the stashes that people have. When my last parent passed away, I inherited their combined yarn stash. I received many sets of knitting needles, dpn's (double pointed needles), a few crochet hooks, some tatting shuttles, tatting thread and yarn. Would you like to know how much yarn? My uncle packed most of it up and stuffed it in the back of his pickup truck (with a cab cover). With the help of another uncle, they vacuum sealed most of it and it was stuffed: and, I do mean stuffed. I've sold some, donated some finished objects to charities and have the rest of it stuffed in my second bathtub and storage closet; as well as stuffed in storage containers and stacked in my second bedroom which may never be a bedroom again. Oops! I was supposed to be talking about other readers out there, wasn't I?

Okay, as for CALs. What are they? Simply worded, they are Crochet A-Longs. There are a few different types of crochet-a-longs. One of the most common types are when the 'leader' will show a pattern and what magazine/URL or such where the pattern can be found. Then, sufficient time will be given for everybody to purchase the yarn, hooks, embellishments, etc. Thus, the crocheting begins. Sometimes, the leader will suggest that everybody crochet to a certain point ,in the pattern, by a specific day and if anybody needs help with the pattern, they can discuss it in a forum somewhere. Once everybody has gotten to this point, they move on to another point.

Another type of CAL is done by a leader-generally this is someone who is a designer-will tell everybody what items are needed and give ample time for everybody to purchase them. Sometimes the leader will tell what the product is, or maybe only if it's a men's wearable, woman's accessory, etc (I think the not knowing what the item will be is pretty fun). From this point on, the CAL continues pretty much the same as the previous CAL. Sometimes, the finished projects are swapped amongst those who were in the CAL or sometimes they're donated for charity.


Related Articles
Editor's Picks Articles
Top Ten Articles
Previous Features
Site Map





Content copyright © 2023 by Beverly Elrod. All rights reserved.
This content was written by Beverly Elrod. If you wish to use this content in any manner, you need written permission. Contact Holly Messenger Aamot for details.