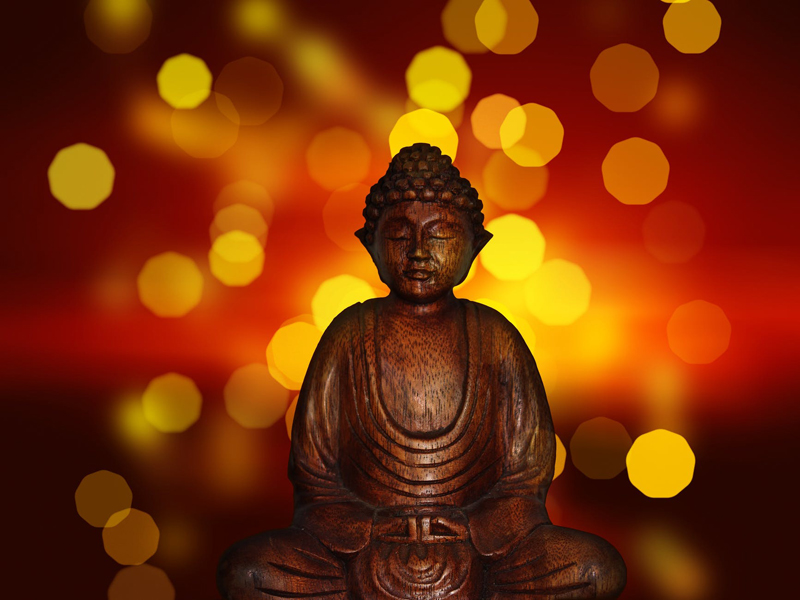 I have been asked if Buddha was/is a God and I felt the best way to answer that is to tell the story of the Buddha's life. A life that is not a life of a God but of a mere man, born as a prince and in renouncing that life and seeking the truth of existence became enlightened.

Born as Siddhartha Gotama around 560 b.c.e. a holy man foresaw that he would become enlighten and abandon his life as a prince if he saw four signs, a sick man, an old man, a dead man and a holy man. Siddhartha's father in the hopes that he would not abandon his role as a royal prince lavished Siddhartha in luxury and kept him inside his palace.

As Siddhartha grew he knew nothing of the outside world. It wasn't until he was married and had a young son before he went out side the palace walls and saw the first three signs: a sick man, an old man, and a dead man. Siddhartha was very upset by this because he had never known that people got sick, old or even died. He was filled with compassion for all beings because all would have to suffer the same fate. When Siddhartha saw a holy man he knew that a way to end all the senseless suffering must be found.

Leaving his family and his life of luxury behind, Siddhartha set out to find truth to the end suffering. After listening to teachings and not finding his answers. Siddhartha started practicing a severe form of meditation abstaining from most food and water. After six years he concluded that this practice was not the way and he abandoned that practice.

A new determination overcame Siddhartha and he took a bowl of food and sat under a tree vowing not to leave that spot until he had become enlightened. Maya made many attempts to sway Siddhartha in his efforts, but to no avail. Siddhartha had finally reached enlightenment.

Siddhartha then traveled throughout India giving teachings to those desiring the path to enlightenment for the next 45 years. At the age of 80 Siddhartha ceased being.

He was a man, who through his own efforts reached enlightenment. Each of us is capable of reaching enlightenment. We do not worship Buddha. Buddha is not a God. He is a great teacher who deserve honor, not worship.


You Should Also Read:
An Intro to Buddhism


Related Articles
Editor's Picks Articles
Top Ten Articles
Previous Features
Site Map



Follow @mommymystic
Tweet



Content copyright © 2022 by Jeanette Stingley. All rights reserved.
This content was written by Jeanette Stingley. If you wish to use this content in any manner, you need written permission. Contact Lisa Erickson for details.