100 Years of Patience and Fortitude in NYC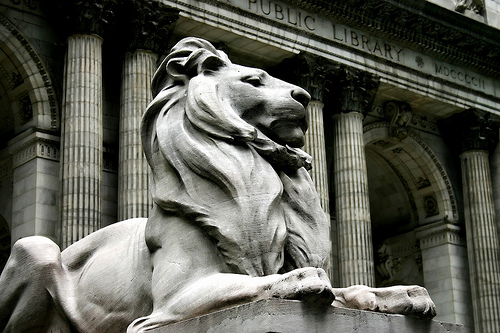 Want to meet "Patience" and "Fortitude" in New York City? These are qualities needed these days in such critical economic times around the world. You can meet "Patience" and "Fortitude" outside the sweeping staircase entrance of the Main Branch of the New York City Public Library on Fifth Avenue between 40th and 42nd Streets.
They are the famous New York Public Library Lions, and they stand guard in repose, flanking the entrance of he famous repository.
In the past, visitors to library are greeted with the larger-than-life stone African lion sculptures wearing top hats or bedecked in garlands or even Halloween masks. This changing fashion show will no longer be seen, as the lions, 100 years old in 2011, have suffered environmental damage over time partially due to the many fashion changes they have endured.
The pair, born in a Bronx studio, were sculpted and set in 1911 and were called by many names on and off over the next few years, until in 1930, the Mayor of New York, Fiorello La Guardia, nicknamed them "Patience" and "Fortitude", citing the qualities New Yorkers would need to weather the Great Depression. They names simply stuck. When facing he library's entrance, Patience is on the left side and Fortitude is on the right.
As children we could remember which way north and south were by remembering which lions were which! Patience is on the south side and Fortitude is on the north. A little trick for orienting yourself on the streets of Manhattan.
When they were first installed, many New Yorkers, passing by the library, were in an uproar, calling the lions monstrosities, and writing letters to The New York Times describing the pair as a "cross between a hippopotamus and a cow" and believed that placing lions, especially ones with such "ugly, square mouths" would detract from the importance and grandeur of the building. In fact "Patience" and "Fortitude", slightly larger and longer than a real life African lion, are different from most sculpted lions decoratively guarding buildings. They are seated quietly, with heir paws spread before them, holding an even steady gaze, Other "guards" are usually sitting upright with a discernably human visage. These decagenarians are calm, cool and collected.
This was just a few years after the library founders had voted to allow the general public to have access to the wonders and knowledge within on a free basis, a concept that had only previously been tried in Boston. Much was riding on the opening of the building in 1911.
The lions are made of Tennessee pink marble, and have only had one cleaning in 2004. Two other places you may have seen Tennessee marble is in Washington, D.C. at The National Gallery of Art and the United States Capitol, which has stairways constructed from the same stone and portions of the main floor in New York City's Grand Central Terminal. As for price, in 1911 the sculptures cost $13,000 to create. By all accounts that figure translates into $300,000 in today's values. Go see for yourself and you'll agree: 'Patience" and "Fortitude" are priceless.
This site needs an editor - click to learn more!


Related Articles
Editor's Picks Articles
Top Ten Articles
Previous Features
Site Map





Content copyright © 2022 by Karen Joyce Williams. All rights reserved.
This content was written by Karen Joyce Williams. If you wish to use this content in any manner, you need written permission. Contact BellaOnline Administration for details.