Cindy Thury Smith - an Intrepid Quilter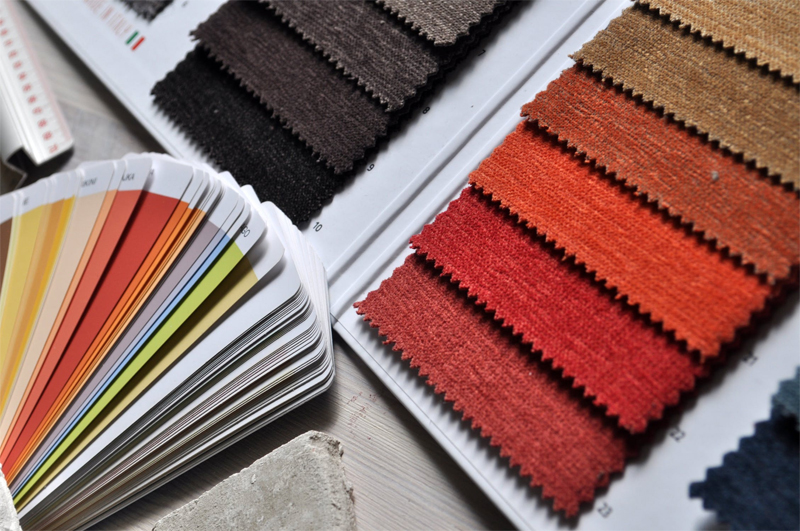 Our wonderful world of quilting is brim full of very interesting quilters of renown, and Cindy Thury Smith is one of these special people. You may remember reading some poetry in the Giggle Patch section recently, that was written by Cindy. I'd love for you to get to know Cindy better, so I've have recently interviewed her for this article. Here's my interview.
So Ladies and Gentlemen, May I introduce Cindy Thury Smith. Thanks Cindy for making yourself available for this interview, first let's start from the beginning.
How and when did you become interested in quilting?
I made my first quilt in 1964 and have been quilting ever since. Some years I made only one or two quilts, some years I made several. I was never interested in hand quilting so I either tied them, machine tacked them or machine quilted them.
What is it that attracts you to quilting and fabric crafts in general?
I LOVE fabrics, especially printed fabrics. I'm a very practical person so I like cottons and have greatly enjoyed the explosion in production of beautiful cotton fabrics in the last 20 years. I also learned early (from my grandmother) that just because you use something every day, doesn't mean you can't make it beautiful. While my first quilt was made for practical purposes (a right triangle quilt I double stuffed to keep me warm), my second quilt was made for beauty (a Lone Star quilt, back in the days when you cut out all the diamonds separately). Now, as a teacher, I would not generally recommend a Lone Star quilt to a student for their second quilt, but, heck, I was young and didn't know any better so I did it.
How did you learn the basics of quilting?
From books I took out of the library. They were older books back then but by the time of the American Bicentennial (1975) many more quilting books were being published.
What are you working on right now?
I have been making many pincushions lately for a book proposal I am submittting. I also have been working (3 quilts done, 3 more to go) with a local quilt guild to make a collection of period appropriate quilts for a Civil War mansion that recently opened up for tours in my hometown.
I like to work on both patchwork quilts and crazy quilts at the same time, working on 3-4 projects at a time, so each day I can work on whatever grabs me. My husband says if I don't sew a little bit each day I get crabby, but I dispute that claim.
If you had to choose a favorite piece you have made, what would it be?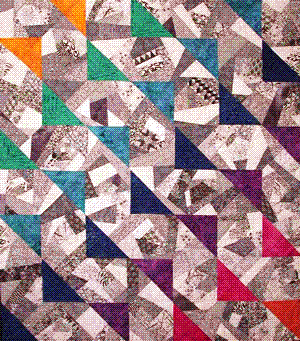 That would be my Crazy Flying Geese. A simple block design with the center shape crazy pieced in black and white prints and the two side triangles in bright solid color batiks. This was one of my first "Crazy and Sane" quilt designs which combine crazy pieced units in traditional block patterns. I love this block design because the large center unit in it can be varied so many ways using different techniques (crazy piecing, strip piecing, embellished, stenciled, etc.).

What was the most difficult piece you have created and why?

Certainly the most nerve-wracking quilt I have ever worked on is the all-silk crazy quilt recently completed for the LeDuc House, the Civil War mansion in my hometown. I do not usually work with a lot of silk and had to make adjustments there. I sewed the 28 crazy pieced blocks and mailed them out all over the country to volunteers from an online crazy quilting list who were going to embroider them then return them to me to assemble the quilt top. I thought I had allowed myself enough time from when the blocks were due to when the quilt had to be hung, but I barely completed it in time. And it was nerve-wracking waiting for the blocks to return, wondering what they would look like.
When the blocks were received I was absolutely speechless. These women had really worked hard on the blocks, doing elaborate embroidery I had never seen the likes of before (and I've seen a lot of crazy quilts). They stayed within the historical constraints and yet were very creative and the entire quilt is stunning. I have received word back from the LeDuc House that they have had to adjust their tours to allow for the complete stoppage of the tour group when they get to the quilt display area. They have had multiple groups come in who came just to see the quilt. I'll be honest: the blocks themselves were not that interesting, but the embroidery is first rate.

What would be your favorite part in the process of creating a quilt?

Definitely the designing, and, of course, I love to do the fabric shopping. The actual sewing I find relaxing, but the finishing is just drudgery to me. I think Purgatory must be sitting around sewing on binding.
After having carpal tunnel surgery on both wrists in the 1990s I made the decision I wasn't going to expend my limited "hand work units" on the parts of quiltmaking I don't like so I now have several long arm quilters that I regularly do business with.
I have found this has changed my designing process also; before I avoided designs that had large open areas where you would expect elaborate quilting. Now I bring proposed designs to my long arm quilter and get her input before I even sew the quilt top. Sometimes a simple change in the design can make it so much easier for her to do the quilting.



I love your poetry, what's the inspiration for that?
My poetry comes from being raised in a family of smart-alecks. My father and brother both used to throw one liners and jokes around the table and my sisters and mom and I when we'd get together we'd get to laughing so hard we'd almost choke.
I also like the writings of Ogden Nash (poetry paroding life), James Thurber (American humorist and sketch artist) and O.Henry (American writer who specialized in unexpected endings) so I guess I look at things from a bent perspective.

What inspires you creatively?

I like to look at other art medias….paper crafts such as paper folding or embossing, other needlearts, photography, architecture, jewelry making, pottery and gourd painting, advertising art, designing on my computer and surfing the net. Right now I am experimenting with Shrinky-Dinks, a thin plastic you can put designs on then you shrink them in your oven. I'm thinking of using my computer to print out a bunch of my favorite quilt blocks, shrink them up and attach them to a chain for a quilters charm
bracelet.


Cindy Thury Website
You Should Also Read:
Other interesting interviews of renowned Quilters
Poems by Cindy Thury Smith


Related Articles
Editor's Picks Articles
Top Ten Articles
Previous Features
Site Map





Content copyright © 2023 by Judie Bellingham. All rights reserved.
This content was written by Judie Bellingham. If you wish to use this content in any manner, you need written permission. Contact Judie Bellingham for details.