The Great Ulster Fry Breakfast Plate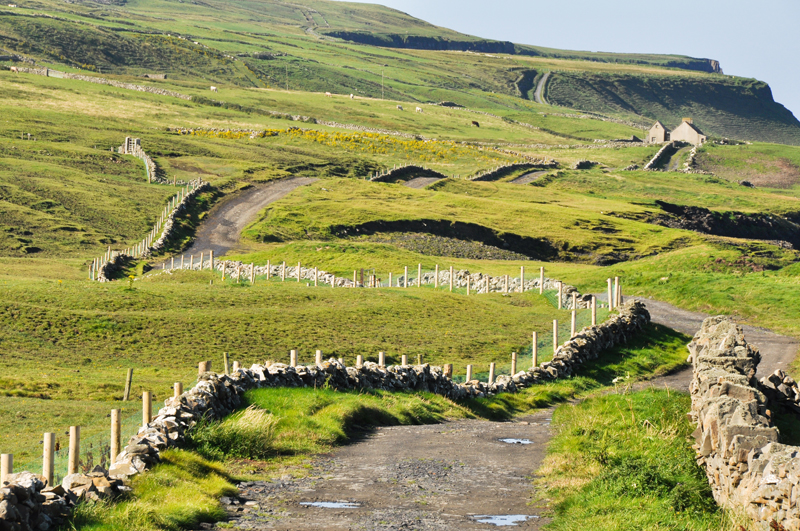 Most visitors to Ireland have been offered the 'full Irish breakfast' in their lodgings. But the Ulster Fry on offer in Northern Ireland is a regional variation on the full Irish breakfast. Sometimes nicknamed 'heart attack on a plate' the Ulster Fry is part and parcel of hospitality to visitors in Northern Ireland.

Many a time we would arrive bleary eyed, off the ferry from Scotland to find Granny Cuckson waiting up for us with the frying plans already on the hob, ready to leap into action as soon as we crossed the threshold. While Granny Cuckson got busy in the back kitchen, we revived ourselves with mugs of strong Ulster tea. Nowhere else on earth have I had as strong a brew as in Northern Ireland. One friend avers that somewhere round about Ballymena the brew is so strong that the spoon stands at attention when you stir in your sugar.

The essentials for the Ulster Fry are sausages, thick rashers of bacon, white pudding and black pudding, fried potato bread, a fried soda farl and a side of wheaten bread. The optional extras include friend mushrooms, grilled tomatoes and tinned baked beans. Traditionally, black and white pudding is served, but depending on your feelings about blood pudding and offal, these may also be considered optional as many people just toy with them on the breakfast plate. And lashings of strong Ulster tea. (Don't try this at home folks!) Continental and USA brands of tea can never replicate the strength of Ulster tea. There are two particular brands in Northern Ireland – Punjana and Nambarrie – not seen any elsewhere in the Republic of Ireland or the UK. This is because they are seriously strong Indian blends of tea that oil the social machinery of Ulster.

Let's take a tour of the essentials on our Ulster fry platter first. The sausages come in links, some very chemically enhanced, but you can get really delicious sausages that could call themselves artisan if they didn't think that was a pretentious label. Northern Ireland still has many butchers who have their own recipes. I recently sampled some pork and leek sausages made by the Kettlye's company that were the stuff of a foodie's dream. You will never see a sausage as a patty in Ireland except in a McDonalds.

In Ireland, bacon comes in three styles: streaky, middle and back. Streaky approximates American bacon strips. The middle and back rashers are thicker and similar to Canadian bacon but don't come in round slices. Again, there are supermarket brands that are filled with artificial preservatives but the discerning shopper who can visit a proper butcher will find rashers that are more pork than water. There are varieties of cures but uniquely Northern Irish bacon is found at O'Donnelly's Butcher shop in Enniskillen, Co. Fermanagh. This so-called Black Bacon is utterly delicious, lean and full flavored. It is rumored that the butcher rears the pigs on an island in Lower Lough Erne. There, they free range, having a very happy hog lifetime before they grace an Ulster Fry platter. My palate says that the rumor is probably true.

Potato bread is a combination of mashed potato and flour, kneaded and rolled flat before being fried. Some folks use oil but butter cannot be beaten. When we lived in England, every so often some Ormo brand potato bread would appear in a local supermarket which my Armagh born husband would triumphantly bear home. You can take an Ulsterman out of Northern Ireland but his stomach tells him that Tatie bread says home!

Wheaten bread is whole meal soda bread that arrives in a basket on the table. Again, there are very many recipes but the best is owned by Jim Clancy's Aunt Agnes and is served in their Leitrim restaurant. It is traditional, baked as a round with a cross cut into it to 'bless the bread.'

Soda bread is the traditional, unyeasted, bread that you can buy made with white flour and is sold in triangular quarters as 'farls.' The white flour farls are sliced and fried with the potato bread, a singularly pleasing and potentially addictive alternative to toast.

There are optional extras as I mentioned – the tinned baked beans, grilled tomatoes and fried mushrooms – which are modern, new fangled attempts at injecting some of the 'five a day' vegetables for a healthy heart onto the breakfast platter.


Related Articles
Editor's Picks Articles
Top Ten Articles
Previous Features
Site Map





Content copyright © 2022 by Bee Smith. All rights reserved.
This content was written by Bee Smith. If you wish to use this content in any manner, you need written permission. Contact Bee Smith for details.