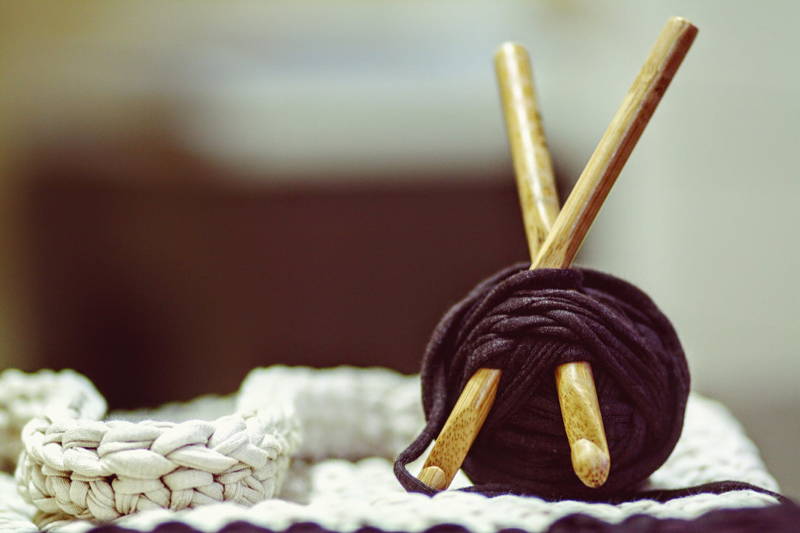 If you're like me, and get tired of cutting multiple lengths of yarn to make fringe-which will end up getting tangled or frayed anyway, you might find that the chain-loop fringe is a better alternative. Here, I'll not only show you how it's done, but I'll also give a few tips and tricks along the way.
Chain-loop fringe (AKA: CL fringe) is very simple to do. You only need to know how to chain and single crochet (or whatever stitch you're using for your base or ending row. CL fringe can be either short, long or various lengths in between. It can be done with a single strand, of yarn or thread, or multiple strands.
ABBREVIATIONS USED
ch-chain
CL-chain loop
lp-loop
sc-single crochet
st-stitch
Let's start out by making a base of single crochet (sc). I'm starting with 22 ch's. For this pattern, it doesn't matter how many stitches that you have or whether the st total is odd or even. Sc in 2nd ch from hk and each st across (you'll notice that I insert my hook just above the bottom lp of the ch st rather than just below the top lp.
Whichever way you do this is up to you. You only need to be consistent throughout your project.
At the end of the ch 1, turn and sc in first (otherwise known as the same) st.
Chain desired length. To determine how long you want the CL to be, chain until you have the desired length. Here, I've chained 12.
Since I'm happy with this length, I will chain 12 more (for a total of 24 ch's) to complete my lp. Next, sc in the same st as the last sc worked.
And, here, your first CL is finished.
*Ch same amount as for last loop (I'll continue with 12 X 2 for a total of 24). Sc in same st as last sc worked.* Two CL's are finished.
Continue working between *'s until last lp completed.
Now, you have a continuous row of CL fringe without having to measure or cut.
The CL fringe can be worked with thread as well as yarn. The loops will finish with a slight twist, but can be blocked to straighten. Another fun thing to do with the CL fringe is to add beads first and after each fringe chain is complete, slide a bead down to the middle of the chain. This works best if the fringe is placed on every other ch, so the beads won't clack together.


Related Articles
Editor's Picks Articles
Top Ten Articles
Previous Features
Site Map





Content copyright © 2019 by Beverly Elrod. All rights reserved.
This content was written by Beverly Elrod. If you wish to use this content in any manner, you need written permission. Contact Holly Messenger Aamot for details.