Making Waldorf Dolls
by Maricristin Sealey, and illustrated by Isabel Sealey, is a book that belongs on every doll makers book shelf. The book is recommended for beginning doll makers, and there are many good reasons for beginners to start with this book. But I think this is also a great choice for experienced doll makers, as well.
The dolls range in difficulty from the simplest
First Doll
which is basically a square of fabric; to
Limbed Doll
which are somewhat more detailed but still easy to do. The patterns are full size and are easy to trace onto plain paper and the illustrations are delightfully detailed. All instructions are clear and easy to follow.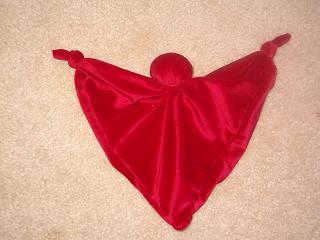 The photo at right is a
First Doll
that I made using a square of stretch velour. From start to finish it took about an hour to make, and I sewed it by hand. This is a very simple doll that is perfect for an infant; lightweight and easy to hold in tiny hands. Washable fabric makes it and ideal toy.
The book includes a chapter on General Techniques which fully explains not only construction techniques but also material and stuffing options. I love the suggestion to recycle old clothes to make dolls and doll clothes with.
The chapter entitled Hair is a wonderful resource for all cloth doll makers. There are many good ideas for different hair styles and techniques for applying hair to the doll. This book is highly recommended.
details
Making Waldorf Dolls
by Maricristin Sealey, illustrated by Isabel Sealey
published by Hawthorn Press, 2005
ISBN 1-903458-58-7 $27.00 USD
157 pages
Making and Dressing Cloth Dolls
Ebook with patterns and instructions to make 5 cloth dolls as well as chapters on general doll making techniques.The book includes 21 inch Lalena Doll, 21 inch David Doll, Bear Dolls, 9 inch Destiny Doll and 15 inch Annie Doll, all together in one handy book. 53 pages.
Making and Dressing Cloth Dolls
.