So you want to try growing an orchid!!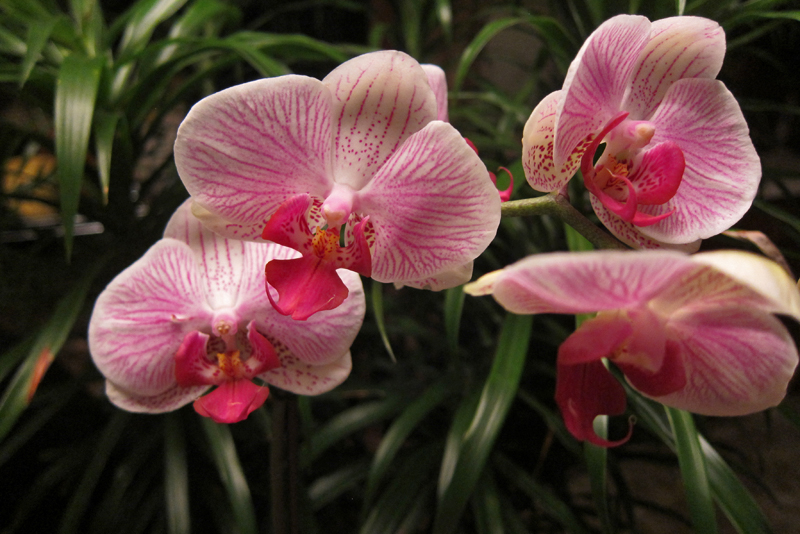 I got my first orchid a couple of years ago because of a conversation with my 80-year-old aunt. She had always wanted to try growing orchids but had never done it because "everyone says it's too hard." She got herself one and told me not to wait as long as she had. She was enjoying the flowers and hadn't killed the plant yet!!
Give it a try…orchids are much more accessible and affordable than they have ever been due to advances in cloning techniques and the irresistible lure of the flowers themselves. You can find them at most home improvement stores and many grocery and super stores. Pick out one that suits your taste and take it home.
The most popular orchid for home growing is the Phalaenopsis (pronounced fayl-eh-NOP-sis). This orchid is popular for several reasons: the flowers can last up to 4 months; they only require indirect sun; there are many flower colors and sizes to suit most decors; the plants are readily available; and they're easy to grow.
Mass market distribution of Phalaenopsis orchids has them running about $20-$30 per plant, depending upon size and number of flower spikes. This may sound like quite a bit for a plant, but if you consider that most live flower arrangements from a florist will cost at least this much and only last for a couple of days or a week. Your orchid flowers should last a lot longer. Look for a plant that has the first flower open so you can see the color and shape of the flower, but has a lot of unopened buds that will open in succession so you can enjoy the display for as long as possible.
The most common problem with new orchid owners is that they tend to over water. Orchids will die from too much water, they do not like to have their roots wet all the time. A good rule of thumb for indoor Phalaenopsis plants is to water deeply once a week and lightly spray the leaves and top of the growing medium every day (preferably in the morning). By watering deeply I mean—pour water through the pot from top to bottom in a sink allowing it to flow out at full strength for at least 10 seconds. Then let it drain and return the plant to its normal location.
The second most common problem is that orchids in a home environment do not receive enough humidity to keep them happy. I recommend getting a plastic serving tray like caterers use, fill it with aquarium rock or glass rocks and put the plant in the middle of the tray. The tray can then be filled with water to just below the top of the rocks and the evaporation from the water will provide adequate humidity for the plant.
Here is a link to the official culture sheets for orchids from the American Orchid Society. Choose Phalaenopsis from the "Beginner Level" section. The file can be printed
American Orchid Society


Editor's Picks Articles
Top Ten Articles
Previous Features
Site Map





Content copyright © 2023 by Susan Taylor. All rights reserved.
This content was written by Susan Taylor. If you wish to use this content in any manner, you need written permission. Contact Anu Dharmani for details.