Every Day is Earth Day in a Global Geopark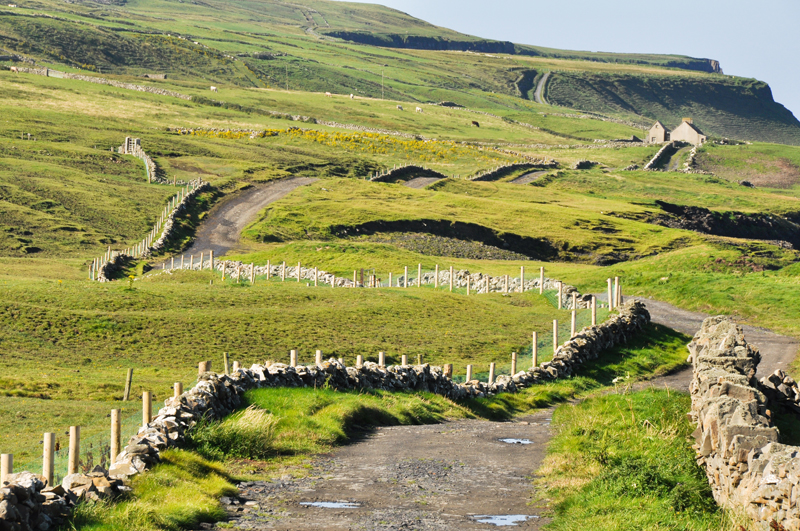 Faílte Ireland, the Irish tourism authority, routinely surveys the many visitors to Ireland and time upon time, what attracts them or what they most enjoyed about their trip to Ireland was the natural beauty of the landscape. In terms of scenery, Ireland is hard to beat. With miles of coastline fringed with mountain ranges, lakes teaming with fish, rivers and fast flowing glens - Ireland has something to please the eye of the most discerning or finicky sightseer.

Given that Ireland is a relatively small landmass, it seems a great honor that there are three UNESCO designated global geoparks. Geoparks are a UNESCO designation to a region that has both natural and built heritage of international importance and geological signficance. In fact, Ireland was the first place in the world to have a cross-border, international geopark when the Marble Arch Caves Geopark extended from Fermanagh in Northern Ireland, into County Cavan in the Republic of Ireland. This cross border cooperation in an area that had seen thirty years of conflict was and still is a landmark achievement in itself.

The Marble Arch Caves Geopark has unique sites scattered from as far east as Lough Oughter in the middle of County Cavan and as far west as Lough Melvin in Northern Ireland's County Fermanagh. While the caves at Marble Arch were the original park's focus and lent their name to the global geopark, there are hundreds of different types of things to see or do within a global geopark that have scientific significance, historic interest and geological importance in the region.

Within County Cavan, for instance, one such site is the compact 284 acre limestone Burren. Burren means stony place in Ireland and most people are familiar with the more famous one in County Clare. Within this forest acreage, you will see all but one kind of megalithic tomb where our ancient ancestors reverently laid their loved ones to rest. Here too, with only stone tools, they made art carvings on rock. The landscape handily offered large stones, known as glacial erratics as building material. These large rocks or glacial erratics were left as the ice sheets shifted and melted and left rock debris in their wake. These large rocks not only have geological significance by romantic names like 'Fionn's Fist' that are related to the myths connected with the region.

South of this region you will find the second Irish Geopark, the Clare Burren and Cliffs of Moher Geopark. The Clare Burren is home to many species of wildflower that thrive in the lime rich, thin soil of the region. Here too, with the rocks close to hand, you can see some megalithic tombs created by our earliest hunter/gatherer ancestors. The Cliffs of Moher are a dramatic cliff face overlooking the North Atlantic popular with many tourists to Ireland.

The third UNESCO Geopark in Ireland is the Copper Coast in Waterford on the southern coast of Ireland. This geopark concentrates on the mining culture of the region and it also offers many coastal walks. Like both the Clare Burren and Marble Arch Caves Global Geopark, there are examples of megalithic tombs, holy wells, lime kilns and castles. Unlike the other two, you can bird watch coastal species, admire seashells, spot seals and porpoises and seek the "mermaid's purse" - the romantically named egg cases of marine species that are washed upon the pristine shoreline.


Related Articles
Editor's Picks Articles
Top Ten Articles
Previous Features
Site Map





Content copyright © 2022 by Bee Smith. All rights reserved.
This content was written by Bee Smith. If you wish to use this content in any manner, you need written permission. Contact Bee Smith for details.