Nadine Nunnelley's Tatting 101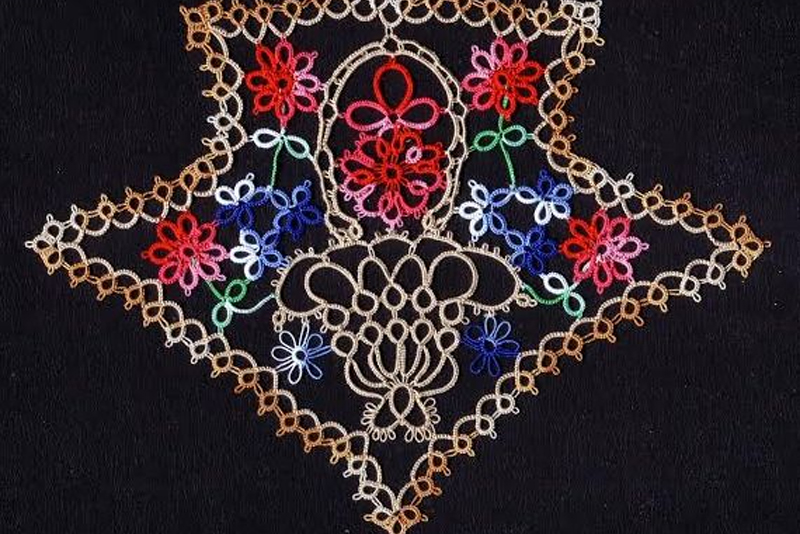 Planned with the student tatter in mind, Nadine A. Nunnelley's first book is a treasure house of basic instructions. It offers a solid foundation for learning the fundamentals of traditional tatting while encouraging the beginner to experiment with new techniques, too.
Five basic lessons take the student from winding the shuttle to working with multiple shuttles. Each lesson is augmented by numerous patterns which give the student practice in each step of the basic techniques. Drawing from historical sources photos are included for the patterns which are written in traditional long hand style. The more modern tatters' shorthand numerical notation is slipped in occasionally to prepare the student for things to come later.
"Tatting 101" is a book which many experienced tatters will wish had been available when they were learning. Common sense suggestions in choosing the correct materials, simple basic language describing the action of the threads in forming the double stitch by transferring the thread, and constant encouragement are found throughout the book. Students will have that warm good feeling of accomplishment when they complete their first project.
The practice patterns include many types of tatting which may be used for trimming towels, baby clothes, lingerie, household linens, doilies, collars, cuffs, and holiday ornaments. And cleverly written into them are the secrets of hiding thread ends, joining on new threads, the "magic" thread trick and even doing split rings! All this, plus, tatting directions for the left-handed, advanced tatting techniques and suggestions for further study. This is a book for all tatters and reference libraries, too.
Nadine Nunnelley comes from a multi-generational tatting family. She has prepared this book as a tribute to her mother, Daisy Martin Allen, and includes several items from her collection of vintage patterns. A sentimental favorite for all tatters will undoubtedly be the baby cap pattern reproduced from the original one tatted by Daisy for her daughter.
Nadine Nunnelley is a fourth generation tatter. Her great-grandmother taught her mother to tat. However, she learned to tat only after retirement when she devoted time to learn this beautiful art. She is teaching her children, grandchildren and great-grandchildren to tat, as they develop the desire to learn.
Nadine has taught many students in classes at the Singer Sewing Center in Florence, Alabama and at a local fabric store. In the fall of 1997, she began teaching tatting in the continuing education class at Shoals Community College, Muscle Shoals, Alabama. After she moved to Prattville in December, 1998, one of her students, Julia Broussard, taught a class that Nadine had originally scheduled at Shoals Community College.
Now her student is teaching members of her own family. As Julia continued to study and take advanced tatting classes, she also became a member of the tatting group which Nadine and her students formed. Now they all meet together to enjoy tatting and learn more.
They chose as a project to trim a tree with tatted lace Christmas ornaments at the Tennessee Valley Arts Center, Tuscumbia (near Helen Keller Library) for their annual "Trees of Christmas" program in the fall of 1998. The exhibition at the center was extended for an extra two weeks because of this tree!
Nadine was born on a farm in Cullman County, Alabama on August 26, 1921. She grew up there and attended Fairview Grammar School and Fairview High School. Married at 20 years of age, she is now the mother of five children, grandmother of seven, and great-grandmother of two!
She attended Anniston Business College during WW2. After working more than forty years, twenty of those at the Alabama Cooperative Extension Service, she retired. Also, after retirement, she volunteered at that office and became a judge in 4-H and other events. Although it was only after retirement that she learned to tat, it has become very important to her.
Art is a great way of expressing ourselves, and tatting is one of the most beautiful arts in the world. It is a great take-along project, relatively inexpensive to begin, and relaxing. The possibilities for creating are endless.
Nadine has many other hobbies, too, but don't count cooking or housecleaning among them. No, she'd rather be tatting!


Related Articles
Editor's Picks Articles
Top Ten Articles
Previous Features
Site Map





Content copyright © 2019 by Georgia Seitz. All rights reserved.
This content was written by Georgia Seitz. If you wish to use this content in any manner, you need written permission. Contact Georgia Seitz for details.