I was given a pair of used summer slacks in a creamy yellow seersucker fabric. The slacks were the wrong size for me and a color that I don't care to wear. The person who gave me the slacks didn't care what I did with them so my imagination took over and I decided to see how many uses I could put the slacks to. Well, as you know, give a sewer some fabric and watch the magic start to happen!
I sat with the slacks and just thought about all the possibilities. With a doll in my hands I wrapped the slacks around the doll and ideas just started jumping out at me...oh the possibilities. The thing that struck me first was that it would be so easy to turn those slacks into several items of doll clothing, so I got out my scissors and a needle and thread and got to work. The photo at right is the first of several projects I will be presenting to you for ideas about how you can turn items you already have, and don't use, into new clothes for your dolls. The skirt is shown on my
Gotz Precious Day
doll, Julia.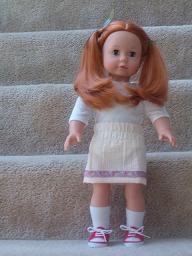 This skirt required very little time to make because I used the slacks as they were. I wrapped the waistband of the slacks around the waist of the doll and cut out a piece that was long enough to go easily around the doll and wide enough to make a nice length skirt. The elastic in the waistband was part of the slacks, so I didn't have to do any sewing for that. Then it required only one straight seam in the center back of the skirt. Since there is plenty of stretch in the elastic, I didn't need to add any buttons for closure.
I then hemmed the bottom and added a piece of decorative ribbon around the bottom to add a nice finishing touch. Voila! A new skirt for my doll, that couldn't have been quicker, easier or more cost effective to make. See what new clothes you can make for your dolls from old clothes you won't be wearing again.
Making and Dressing Cloth Dolls
Ebook with patterns and instructions to make 5 cloth dolls as well as chapters on general doll making techniques.The book includes 21 inch Lalena Doll, 21 inch David Doll, Bear Dolls, 9 inch Destiny Doll and 15 inch Annie Doll, all together in one handy book. 53 pages.
Making and Dressing Cloth Dolls
.