Doll collectors never have too many dolls. Many adult doll collectors, me among them, would love to have an
American Girl
doll. At the Holiday Season many younger doll collectors are asking for them, as well. They are beautiful, well made dolls, but my budget does not include the price of a new one and I'm sure, in these difficult economic times, many others can not afford them either.
The good news is there are alternatives.
The least inexpensive way to go is to start at your local flea market or resale shop. I found a beautiful doll at my local flea market for $7. She is 22 inches tall and slightly larger around the waist than 18 inch dolls, but with a little work with needle and thread I am able to make pretty clothes for her. To see my article about finding her
look here
. Here is a link to a dress pattern for her
Dresses for 18 to 22 Inch Dolls
. She is pictured at right.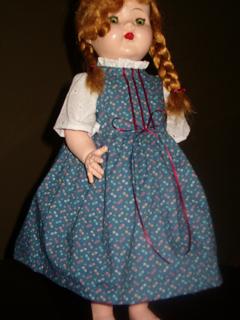 Another way to find less expensive
American Girl
dolls is to try the online auction sites. Some of the dolls available here will need a little TLC to bring them back but are well worth the money saved. Here you will have to shop by price and condition of the doll.
Gotz Dolls originally designed and manufactured
American Girl
Dolls for the Pleasant Company. They have a line of 18 inch dolls called Gotz
Precious Day
dolls that are extremely similar to
American Girl
dolls and the price for a new one is approximately half of the AG doll. These dolls look very much the same in face and body, and will wear the same size clothes.
Madame Alexander Dolls
also offers a line of 18 inch dolls that are even less expensive. These dolls are not as widely available in stores, although I have seen them in the large toy stores in the U.S. with the R in their name. They can also be found online.
Good luck in your search for the perfect 18 inch doll for you!
Gotz 18" Jessica Precious Day Girls Collection
Making and Dressing Cloth Dolls
Ebook with patterns and instructions to make 5 cloth dolls as well as chapters on general doll making techniques.The book includes 21 inch Lalena Doll, 21 inch David Doll, Bear Dolls, 9 inch Destiny Doll and 15 inch Annie Doll, all together in one handy book. 53 pages.
Making and Dressing Cloth Dolls
.