I was working on making a new dress for my Magic Attic Doll, Rose. Choosing which fabric scraps were the most appropriate and pleasing for a dress for Thanksgiving. That was the easy part. I have a lot of scraps! Fortunately, most doll dresses require only scraps. I found the perfect color for the season, a scrap of fabric my mother-in-law had given me from her collection of
Thimbleberry
fabrics, with a nice tan background and a dark maroon and green floral print.
The problem started when I looked through my bag of trim scraps. I had the perfect size piece of eyelet lace for the collar, but it was white, I needed off white. What to do? I decided to take that scrap and tea dye it."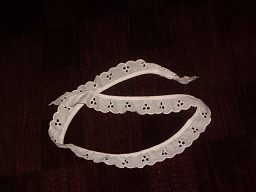 There are many websites with good instructions for tea dyeing fabric, and I would recommend checking those out for doing this to larger amounts of fabric. Since I was only working with a scrap of trim I decided to try an easier way than those sites recommend. Again, if you are doing this for a large piece of fabric, or an important project, go with the professional directions for best results.
To start I brewed a strong mug of tea, using 2 tea bags, and let it brew for about 5 minutes. While the tea was still hot I removed and discarded the tea bags and put the scrap of lace in the mug. It stayed there for about 30 minutes, while I made sure all the eyelet was submerged in the tea.
For this project I wanted an even color for the eyelet, but it would be interesting to see what kind of patterns could be created be keeping some of the eyelet out of the tea bath for a while while the rest remains submerged."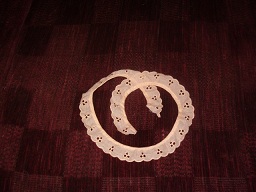 After the 30 minutes I removed the eyelet from the mug, rinsed it with cold water, wrapped it in a towel and pressed as much of the water out as possible. I then hung it up to dry. At this point I was happy with the color of the eyelet so I was done, had I wanted a darker color, all I had to do was repeat the process.
As you can see in the two photos, the change in color is a slight one, but it looks perfect with the fabric for the dress and I am happy with the results. Watch for the dress in a future article and see what you think of the finished results.
Making and Dressing Cloth Dolls
Ebook with patterns and instructions to make 5 cloth dolls as well as chapters on general doll making techniques.The book includes 21 inch Lalena Doll, 21 inch David Doll, Bear Dolls, 9 inch Destiny Doll and 15 inch Annie Doll, all together in one handy book. 53 pages.
Making and Dressing Cloth Dolls
.