Reviews of Nuclear Assault, Seven Witches, Frost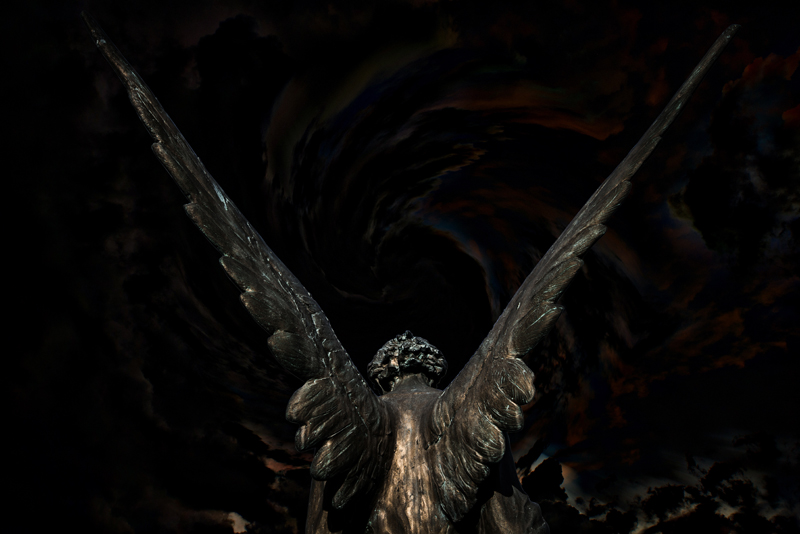 NUCLEAR ASSAULT – LOUDER HARDER FASTER - Screaming Ferret Wreckords(DVD)
One of the original thrash bands, Nuclear Assault got back together a couple of years ago after some time apart. After releasing a new record last year, they are following it up with their first DVD. Louder Harder Faster is stuffed with material. Front and centre is a concert from 2005 which shows the band has lost none of their intensity and power.
Here is the set list from that show
Track list (Louder Harder Faster):
1) Rise from the Ashes
2) Brainwash
3) F#
4) New Song
5) Critical Mass
6) Game Over/Butt Fuck
7) Sin
8) Price of Freedom
9) Long Haired Asshole
10) Trail of Tears
The package is then crammed with such items as an audio interview with Danny Lilker (also an original member of Anthrax, as well as part of S.O.D. and Brutal Truth) and Glenn Evans. The interview traces how the band got back together; why they broke up; and the state of metal today. There are also two unreleased songs, "Celtic Frosty Cold Bear" and a cover of "Folsom Prison Blues".
Two videos are included, of "Long Haired Asshole" and "Price of Freedom" which are accompanied by two separate segments on the making of each video, along with "Louder Harder Faster". There's a great 15 minute movie of the band in rehearsal in their studio/basement. Then there's extra live footage of concerts from a show in Japan; Live at Hammersmith; Life in '85; New Jersey Metal Fest; and at CBGB's. Two photo montages accompany some additional live audio as well.
For Nuclear Assault or thrash fans who are just starting to discover them, this is an excellent package.
SEVEN WITCHES – YEARS OF THE WITCH DVD - Screaming Ferret Wreckords
For newcomers to Seven Witches like myself, you can do no better place to start than by checking out this excellent DVD. There is a 75 minute concert where band founder Jack Frost shows his considerable chops, blazing out wicked chords and scorching solos.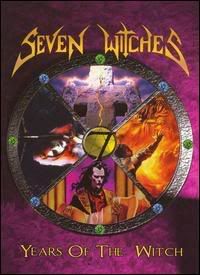 The best part for me were the interviews with Jack who proved himself to be one of the most engaging, likeable guys in the genre. The first section, Jack talked about the history of Seven Witches, going back to his being inspired by Kansas and Deep Purple's Ritchie Blackmore. Then there's a lengthy interview between Jack and Brave Words & Bloody Knuckles writer Mark Gromen and many aspects of the band's history and future are explored. In the next segment, Jack introduces the owner of the studio where the band has recorded all of their records. Archived concert footage and a spliced together version of "Kamelot", where the various singers from over the years all take a turn, round out the package.
FROST – OUT IN THE COLD - Screaming Ferret Wreckords
I have to say that I much prefer this solo record from the leader of Seven Witches to that band's regular output. I respect what they do and all but it just doesn't resonate with me to any great extent. This record, however, is more straight-ahead metal and the songs, in particular the title cut, are just more accessible.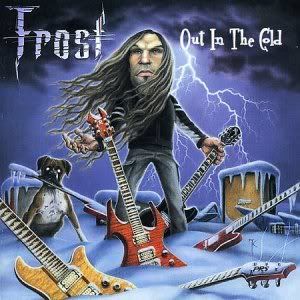 There are several covers on here, including Foreigner's "Cold As Ice", April Wine's "Sign of the Gypsy Queen", 38 Special's "Hold On Loosely" and The Baby's "Head First". Frost has many special guests on this record, including Jeff Martin (Racer X and Badlands), Paul Shortino (Rough Cutt), Joey Vera (Armored Saint), Mike Duda (W.A.S.P.) among others. Frost handles vocals on "Hold On Loosely: and does quite a good job. Undoubtedly the best song on the record, in my estimation, is the ballad "Passage to the Classical Side". Hey Jack, give us more like this and we'll be a happy bunch.
You Should Also Read:
Nuclear Assault
Seven Witches
Frost


Related Articles
Editor's Picks Articles
Top Ten Articles
Previous Features
Site Map





Content copyright © 2019 by Morley Seaver. All rights reserved.
This content was written by Morley Seaver. If you wish to use this content in any manner, you need written permission. Contact Morley Seaver for details.