Climbing Out from the center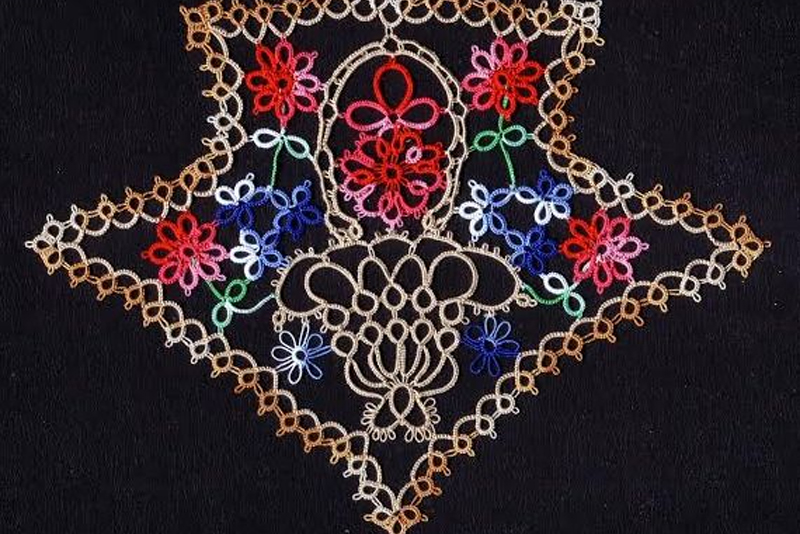 One development in the method of tatting has allowed the tatter to eliminate much of the tedious work of cutting and tying so common in older patterns. Its use allows the tatter to climb out from the center of a pattern and work to the outer rows without cutting the threads. This is the method of climbing out. Shuttles are wound continuous thread method (CTM). Begin by creating a center ring with one fewer picot, closing the ring and using the two threads to create a faux or mock picot, which brings the threads into position for the next row or round.
To understand its use as a construction tool, it is necessary to have a clear understanding of the tatted ring:
Ring A
is a normal OVOID tatted ring.
Ring B
is a round center ring tatted in the traditional manner of beginning the ring in the middle of a set of DS and then cutting the threads and hiding them on the back.
Ring C
is a round center ring tatted with full sets of DS and "climbs out" by means of the mock picot.
This last example shows a round center ring, mock picot and a split ring (needle tatted version) about to be closed.
Now you can practice climbing out in this exercise from the Online Tatting Class 1999. We learn from examining the center motif of the pattern the method of "Climbing Out" from the center to another row.
Round four is accomplished in two passes:
*R 6 + (joining to the center picot of the chain of the previous round) 6 close ring. RW
CH 4 RW
R 6 - 6 close ring RW
CH 4 RW Repeat from * around.
Depending on how tight your tension is you may need to adjust the length of the chain. Add a couple of stitches to reach the next point of attachment if necessary. Then maintain that count around.
The outer edge:
Wind your shuttles CTM. If needle tatting, stiffen end of thread which goes through the needle's eye and keep a needle threader handy. Attach thread to any ring of last round; use a shuttle join.
*Split ring: 6 / 6 close ring.
R 5 - 1 - 1 - 5 close ring. (Make the center picot longer than the side picots.)
Split ring: 6 / 6 close ring.
Shuttle join to the next ring of the previous round.
Repeat from * around. For added stability you may want to join the regular ring to either or both split rings. Your choice.
The finished doily:
You Should Also Read:
The Tatted Split Ring in Design
Split Chain
Round Tatted Doily Anne Orr


Related Articles
Editor's Picks Articles
Top Ten Articles
Previous Features
Site Map





Content copyright © 2023 by Georgia Seitz. All rights reserved.
This content was written by Georgia Seitz. If you wish to use this content in any manner, you need written permission. Contact Georgia Seitz for details.